College Commitment
Giron to UCLA in 2011
by Keith Kropp, 24 December 2010
Thousand Oaks, Calif., located just 25 miles north of Los Angeles, is a thriving city of 128,000, rich in culture and in many ways the economic engine of Ventura County. The city is also the home of several outstanding tennis players - at all levels of the sport.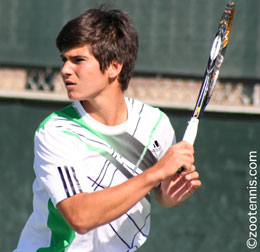 Marcos Giron
is a 17-year-old high school senior who signed a letter of intent to play at
UCLA
on Nov. 10. The Blue Chip recruit is also the latest in a line of top players to emerge from Thousand Oaks.
The most well known of those tennis stars is 23-year-old Sam Querrey, who grew up playing junior tennis in Thousand Oaks, turned pro in 2006 and is now the 18th-ranked player on the ATP Tour. Three other Thousand Oaks standouts are quietly becoming productive players for Pacific-10 Conference schools - JT Sundling at USC, Kyle McMorrow at Washington and Denis Lin at Stanford.
Giron, who has hit with Querrey on several occasions, also has the game to thrive in the Pac-10. He is definitely excited about becoming a Bruin.
"The coaches are great, I like the team and I will be comfortable with my teammates," Giron said. "UCLA is a great school in a great area. My tennis will definitely improve a lot playing there."
From an early age, Giron displayed the type of talent that would one day enable him to play at the Division I college level.
At age 8, Giron hit with Pete Sampras. On other occasions, he hit with ATP Tour doubles stars Mike and Bob Bryan. As a 10-year-old, Giron began to separate himself from his peers and was soon participating in the high school group during clinics run by Scott Christie at Sunset Hills Country Club in Thousand Oaks.
Christie, who coached Giron through most of his junior years, recognized Giron's talent right away.
"Marcos has always had a feel for the game," Christie said. "He knew where to be on the court. Starting in the 12s, we built his game for later on."