Tournament Summary
Lauren Davis Rolls on at Dunlop Orange Bowl; Morgan, Kiick and Lokoli Collect Titles at Crandon Park
by
Colette Lewis
, 17 December 2010
"I'm so tired."
After three major ITF junior titles in three weeks, 17-year-old Lauren Davis could finally put aside the competitor-speak and admit it. But even after squandering two match points in the second-set tiebreaker against unseeded Grace Min, Davis didn't let discouragement or fatigue derail her quest for an 18th straight junior win, emerging after three hours and fifteen minutes with a 6-3, 6-7(7), 6-1 victory in the Dunlop Orange Bowl girls 18s championship match.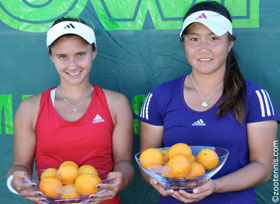 "It's been a long three weeks," said the eighth-seeded Davis, who played 18 matches in 21 days. "It went by pretty fast, because I was enjoying myself winning."
Davis didn't drop a set until the final, rolling past 2010 ITF World Junior Champion Daria Gavrilova 6-2, 6-0 in the quarterfinals and No. 3 seed Monica Puig 6-1, 6-3 in the semifinals.
But despite Min's 6-2, 6-4 semifinal loss to Davis at the Eddie Herr, and her 4-1 deficit in the opening set of the Orange Bowl final, the 16-year-old from Lawrenceville, Ga. didn't waiver mentally. Nearly scraping her knees on the ground as she got down for backhands, the 5-foot-4 Min stayed strong. Gaining a break in the second set, when she hit a preposterous running forehand pass with Davis serving at 2-2, 30-40, Min gave it back in the eighth game. But holding from behind twice to get into the tiebreaker, Min continued to match Davis shot for shot, even as the gusty winds on Key Biscayne began to intensify.
In the tiebreaker, the first ten points went to the server, but with Min serving at 5-5, she was called for a foot fault. Min got her second serve in, but after a brief rally, Davis hit a forehand straight down the middle of the court that landed on the baseline and handcuffed Min, giving Davis her first match point.
Min saved it with a drop shot to bring Davis in, followed by a stealthy forehand pass, but Davis immediately earned another match point with a forehand winner. On her second match point, Davis hit out, but her forehand just missed. After directing a backhand wide on the next point Davis presented Min with a set point, and Min converted when Davis's forehand missed wide after a long rally. The several hundred fans enjoying the sun and the tennis at Crandon Park had seen nearly two and half hours of tennis, and the match was even.
After a bathroom break, Davis returned to break Min in the opening game, then lost her own serve to make it 1-1, but that was the last game Min would win.
"The wind picked up a lot, and I probably didn't notice it until it was too late," Min said. "I wasn't moving my feet enough with the amount of wind. I don't really know if I was tired or not, because I was filled with adrenalin, but I didn't really adjust to the conditions well."
Once Davis dug herself out of a 0-40 hole serving at 4-1 in the third set, saving four break points total, she was home free, with Min's forehand producing three straight errors after she had taken a 30-15 lead in her final service game.
Despite the loss, Min could see the strides she has made in her game in the past several weeks.
"I haven't had a bad week in a long time, and I feel I'm improving with each week," said Min, who trains at the USTA's National Center in Boca Raton. "Even since Eddie Herr, I've felt my game has gone to another level, and I hope I can just build on that going into the new year."