Who's Hot?
Prince Hot 100 List - December '10
by Amelia Thomas, 20 December 2010
What better time to relish a victory than the holiday season? In addition to presents, family time and all-around holiday cheer, the junior athletes on the Prince Hot 100 list are enjoying an improvement in their game over the past few months.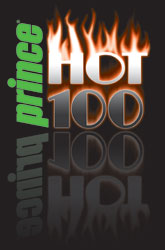 The Prince Hot 100 lists are published each month, and the December Hot 100 lists feature the one hundred boys and girls who most improved their ranking during the month of November. You can find out more about the Prince Hot 100 - and how the lists are calculated - by reading here.
The latest lists, published earlier this week, are available here:
We talked with a few of these players...
Roundup
Jeremy Bush (Long Grove, Ill.)
Four-star sophomore Jeremy Bush was just nine years old and six months away from becoming a black belt in Karate when he had his first private tennis lesson. Up until then, he had just taken group tennis lessons. Bush found that he enjoyed tennis and wanted to just focus on the sport.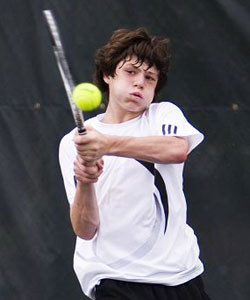 4-Star Sophomore
Jeremy Bush
© Julie Wrege, TennisRecruiting.net
However, Bush's mother, Sheila Bush, believes that starting with Karate helped him with his tennis game. "Karate really prepared him for the mental aspect of competition and also with his focus," she said.
The mental focus was certainly there last month. Bush won a title at the Midwest Fall Closed Sectionals and the consolation bracket at the USTA National Open in Midland, Mich. Bush complied an overall 12-1 record, climbing to a ranking of 51, just outside the top 50.
Bush cites some particularly tiring matches in the semifinal and final of the Midwest Fall Closed Sectionals as his best victories of the month. He defeated five-star freshman Martin Redlicki in the semifinals 6-3, 2-6, 6-4. Moving directly on to play Conrad Harron in the finals, Bush experienced a little more trouble.
"It was an extremely tiring match for me because I had just played against [Redlicki]. I could barely move in the last game of the match," Bush said. However, he came out successful, winning 6-2, 2-6, 6-4.
Besides Karate, Bush's parents credit a coaching change for the success of his game. Bush now works out at the CARE Academy Program at the Libertyville Club with Mark Bey and his staff. "They have been very supportive of his goals and have made a huge difference," Sheila Bush said.
Recently, Jeremy Bush and Bey have been improving Bush's forehand, among other things. "I'm working on being able to use any game style that would be useful against a player, such as [hitting] with a heavy spin, through the court, angles, or to use my volleys to my advantage," he said. Bush hopes to become an all-around player.