Special from
Zoo Tennis
When Kevin Anderson announced his retirement from the ATP Tour last week, the career highlights of the 35-year-old from South Africa included US Open and Wimbledon finals, a Top 5 ATP ranking and the Arthur Ashe Humanitarian Award. With that resumé and seven tour titles, the University of Illinois product takes his place as one of the top former collegians to compete on the ATP tour this century.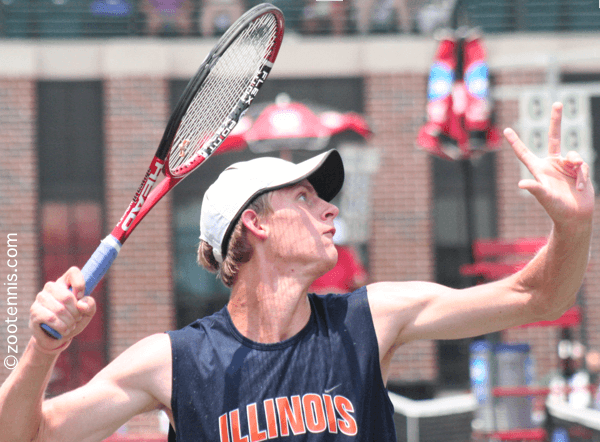 Kevin Anderson Was A Three-Time All-American at Illinois
© Zoo Tennis
After finishing his final year on the ITF Junior Circuit ranked 32, Anderson had considered immediately realizing his dream of playing professional tennis. But the opportunity to develop his game and to compete from a base in the United States led to him Champaign, where fellow South African Craig Tiley had built the Illini men's program into a national powerhouse.
While establishing the discipline, work ethic and commitment to improvement that he displayed throughout his professional career, Anderson led Illinois to the NCAA national championship final in 2007, before leaving Champaign for the professional circuit a few months later.
Current head coach Brad Dancer, who took over from Tiley after Anderson's first season at Illinois, lists four ways college tennis prepared the 6-foot-8 Florida resident for professional success.
"You're getting that match toughness, match opportunities, the pro events we hosted, so No. 1, competitive experience," Dancer said. "Two, I think Kevin made quite a good jump technically, with his volleys and his forehand. The third thing is his emotional maturation. Even though Kevin has always been incredibly mature, in college he had a great time. He was a social person, he met his wife here, he was very involved in our community. And the last one was the network and the group of people behind him; he's always felt that he's playing for something bigger than himself. I think that connectivity matters....I can't tell you how many times he's told me, like, 'I'm in Shanghai and people are screaming out ILL-INI'. It's a lonely, difficult, tough world out there."