Notes
The table above lists all recruits as of May 23, 2022. In addition to the Star Rating, we display the highest TRN, UTR, ITF junior, and WTT rankings for each player since January 1, 2022, and for international players we display the TRN ranking they would hold if eligible.
Also Receiving Consideration
We reviewed the resumes for more than 50 teams for these rankings. Teams that received strong consideration from our insiders and almost made our list are (alphabetically) as follows: Christopher Newport, Haverford, Occidental, Stevens, Vassar, Washington (MD)
Jumbo Class
During the 2022 college tennis season, Tufts University lived up to its nickname in a big way. How big? The Jumbos reached the Final Four of the 2022 NCAA Division III Championships - winning three matches along the way to earn the school's first-ever Elite Eight and Final Four appearances. Coming into 2022, Tufts had only ever won 2 NCAA Tournament matches and had not advanced to the NCAA Team event since 2004. They won more matches in the 2022 tournament than their other six appearances combined.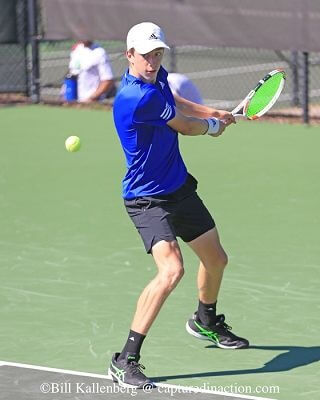 And the future may be brighter. Jumbo Head Coach Karl Gregor is bringing a five-man class to Boston with a nice mix of American and international talent that ranks No. 1 among D-III schools.
5-Star senior Aarush Ganji (Harrisburg, N.C.) posted 4 singles wins during last summer's USTA Boys' 18 Clay Court and Hard Court Nationals, while fellow American and 4-Star Sacha Maes (New York, N.Y.) has been dominant in USTA Eastern play. This pair is joined by Bulgarian standout Alex Ganchev - one of three D-III recruits with UTR ratings above 12 this year - as well as Javier Gonzalez (Spain) and Andrej Djokic (Serbia).
Our panel of 12 college coaches unanimously selected this group as the top D-III class for 2022.
Coach Gregor is understandably excited about the future of his program.
"We are really excited about this class," said Gregor. "We sincerely believe it's the strongest class we have ever had."
High Five
There was little disagreement for the next two classes on our list, and Williams College get the nod at No. 2.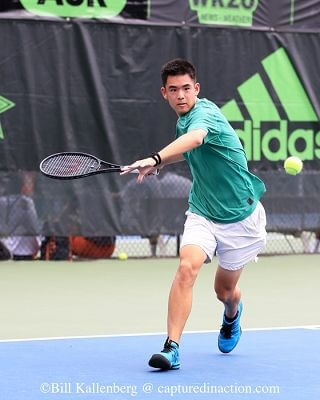 The Ephs, who last won the NCAA Title in 2013, are coming off an Elite Eight appearance at this year's team competition. Head Coach Dan Greenberg is bringing three strong recruits to Williamstown, including 5-Star seniors Nicholas Chen (Oakland, Calif.) and Jason Shuler (Scarsdale, N.Y.) as well as 3-Star recruit Simon Volkema (Grand Rapids, Mich.).
The University of Chicago - that's defending champion Chicago to you - checks in at No. 3 in our rankings. New Yorkers Emil Grantcharov (New Rochelle) and Hudson Beaudoin (New York) will join New Jersey recruits John Walentowicz (Montville) and Jack Wong (East Brunswick) to form a quartet of 4-Star recruits for the Maroons.
The Emory Eagles and Denison Big Red round out our Top 5 at No. 4 and 5, respectively.
Conference Call
Another year, another outstanding showing in our recruiting class rankings from the NESCAC and UAA conferences. Those two conferences have six representatives apiece - as well as 9 of the Top 12 classes on our list. Not too shabby.
Top NESCAC programs Tufts (No. 1) and Williams (2) are joined in the rankings by the Middlebury Panthers (6), Wesleyan Cardinals (7), Amherst Mammoths (12), and Bowdoin Polar Bears (16).
UAA recruiting classes in the rankings are led by Chicago (3) and Emory (4). Other UAA programs on our list are the CWRU Spartans (9), Wash U Bears (11), Brandeis Judges (19), and Carnegie Mellon Tartans (21).
The only other conference with more than 2 ranked classes was the SCIAC with 3.
Drop Shots
Scattershooting through the rankings …
State of Mind - 14 different states have recruiting classes in our rankings, with Massachusetts leading the way. Six ranked classes hail from the Commonwealth.
I Know You - All 25 programs on our list have had ranked recruiting classes in previous years.
Familiar Faces - 18 of the 25 classes in our rankings appeared in last year's 2021 D-III recruiting class rankings.
Perfect Attendance - We have conducted our D-III rankings every year since 2010, and three programs have appeared on all 13 lists: Chicago (No. 3), CMS (8), and CWRU (9).
Welcome Back - Gustavus Adolphus (20) and Southwestern (23) are back in the rankings for the first time since 2018. That three-year is the longest time away from the rankings for any schools on the list.
Best Ever -This is the first time Tufts has ever had a No. 1 ranking among recruiting classes. Denison (5) also has its best-ever recruiting class ranking in school history.
Coming Friday … D-III Women
We wrap things up with the women later in the week. This coming Friday, TennisRecruiting.net will complete its 2021 recruiting class ranking series with a look at the top 25 women's D-III recruiting classes. Check back for that list - as we celebrate the new blood in college tennis.
Leave a Comment
More Recruiting Class Rankings
6-Feb-2023
Top Women's Classes - 2023 Winter Rankings
The size of our commitment list is pushing 500 for the senior girls. With that in mind, today is a great time to check in on how schools are doing on the recruiting trail. Today, the Tennis Recruiting Network is proud to announce the Top 25 Women's Recruiting Classes for 2023.
30-Jan-2023
Top Men's Classes - 2023 Winter Rankings
As January comes to a close and the spring semester gets into full swing, today is a great time to take a look at the top college tennis recruiting classes. TRN is excited to present its 2023 Men's Recruiting Class Rankings - including the Top Dawgs ...
24-Jun-2022
2022 Top NCAA D-III Women's Classes
TRN wraps up three weeks of recruiting class rankings with a look at Division III. Our final list of the season shows the Top 25 NCAA Division III recruiting classes.