Special from
Zoo Tennis
The BNP Paribas Open in Indian Wells considers itself "Tennis Paradise," with great weather, a world-class facility and the annual gathering of the sport's top players. This March, juniors will get a taste of that experience with the ATP and WTA Masters 1000 tournament hosting the BNP Paribas Junior Championships during the second week of the professional event.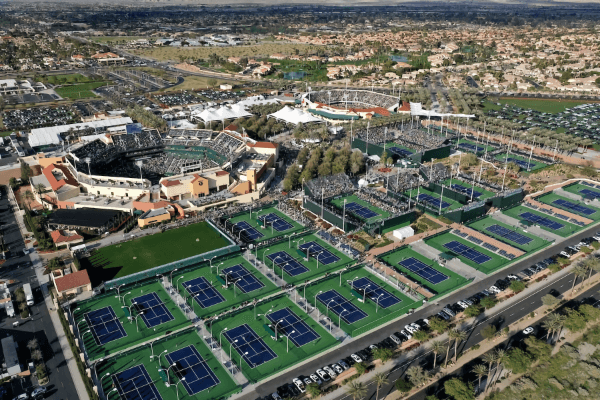 An Aerial View of Indian Wells Tennis Garden
© BNP Paribas Open
American juniors have competed on the Indian Wells Tennis Garden courts throughout the past decade, with the site hosting the USTA National Spring Championships, known as the Easter Bowl, a week after the completion of the BNP Paribas pro tournament. That will continue in 2023, with Desert Champions, the Indian Wells Tennis Garden event management company, opting to add an International Tennis Federation J300 tournament during the pro event to provide younger players a view of the sport's highest level.
"We felt like it would be great to bring some juniors to the courts, give our fans a little bit more, a taste of the next best players in the world," said Philippe Dore, Desert Champions' Chief Marketing Officer. "Our goal is to fully integrate them into the Tennis Paradise experience. We have the facility, we have the technical infrastructure, we have all our agencies in town, working on the BNP Paribas Open, so it just made sense for us to add the tournament."
This year the tournament's entrants will be from just two countries - Canada and the United States - but there are plans to open it to all countries beginning next year.
"This year is going to be US and Canada, but the goal is to make it truly international," Dore said. "We're looking for the next (Carlos) Alcaraz, (Casper) Ruud, (Iga) Swiatek, Coco Gauff."