Tournament Feature
Friedman, Dussault Are Good Sports, Winter National Champs
by Sonny Dearth, 6 January 2023
Though just a 10th grader, Leena Friedman provided excellent advice for players of all ages.
"If you just play the game right and go out and have fun and play your best, sportsmanship will come right along with it," the Brooklyn, New York, standout said after winning the USTA Winter Nationals Girls 16-and-under singles championship and its sportsmanship award.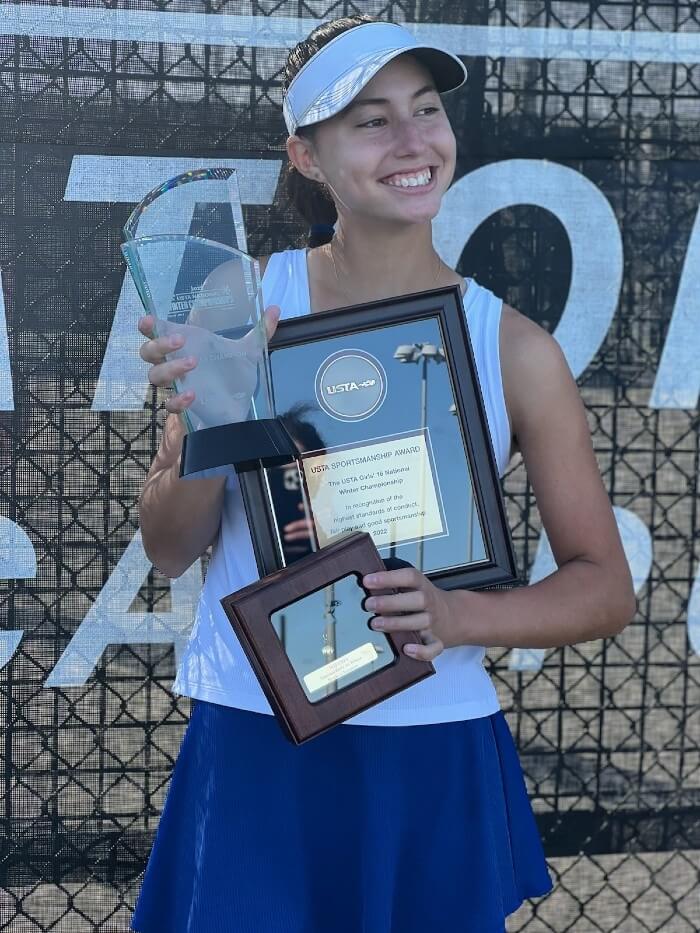 Girls 16s Singles Champion Leena Friedman
© Contributed Photo
Maximus Dussault of Stuart, Florida, equaled that feat in Boys 16s, winning the singles title and sportsmanship award at the USTA National Campus in Orlando.
Friedman, a five-star recruit seeded third in the event, beat fellow New Yorker Sophia Holod of East Setauket, the No. 6 seed, 6-1, 6-4 in the final.
Tournament director Rick Workman said of Friedman, "That's who we want to put out in front of American tennis. That kid is amazing. She has a very genuine spirit and she loves the game."
Friedman adapted well to sliding on the Har-Tru courts, which were used throughout the 16s event.
"The beginning of tournaments is always trickiest for me, with the nerves and everything," she said. "I think I learned from the early matches and improved as I went along. ... Playing a strong opponent, you have to make sure to stay really positive and fight for every point. The better the opponent, the more I rise to the occasion."