College Feature
Case Western Defends DIII Men's National Indoor Title
by Rhiannon Potkey, 1 March 2023
After having never won a national title before, Case Western Reserve University didn't wait long to return to the top.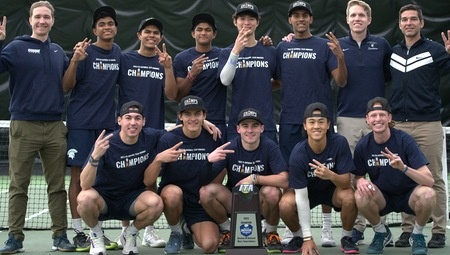 The second-seeded Spartans secured their second straight ITA Division III Men's Team Indoor National Championship trophy with a 5-1 win over No. 4 Washington University in Saint Louis at the Swanson Tennis Center in St. Peter, Minnesota last Sunday.
CWRU is the third program in the tournament's history to repeat as champions, joining Emory and Gustavus Adolphus. Wash U was making its first appearance in the final since 2014.
James Hopper and Vishwa Aduru, the top-seeded pairing in Division III, gave Case Western a 1-0 lead with an 8-4 win over fifth-ranked Abhi Ramireddy and Phuc Huynh at the No. 1 doubles spot, avenging a loss from the fall. Wash U evened the score at 1-1 with a victory at second doubles, with Gaurav Singh and Scott Yamamoto defeating Chris Provenzano and Sahil Dayal 8-5.
Diego Maza and Michael Sutanto gave Case Western the lead for good by defeating Colin Scruggs and Patricio Garcia Muriel Pasquel 8-6 at No. 3 doubles.
Hopper added to the Spartans' lead with a 6-3, 6-3 win over Ramireddy at No. 1 singles, and Ansh Shah's 6-1, 6-3 win over Pasquel at No. 4 singles put Case Western on the brink of another title. Casey Hishinuma provided the clinching point with a 7-5, 6-3 victory over Scruggs at No. 6 singles to secure the second straight championship for the Spartans.
Case Western beat No. 7 Emory 5-1 in the quarterfinals and No. 3 Claremont-Mudd-Scripps 6-3 in the semifinals. Wash U beat No. 5 North Carolina Wesleyan 5-4 in the quarterfinals and No. 1 Chicago 6-3 in the semifinals.
All-Tournament Team
Most Outstanding Player: James Hopper, Case Western Reserve
Singles
No. 1: Hopper
No. 2: Vishwa Aduru, Case Western Reserve
No. 3: Jared Phillips, Wash U
No. 4: Ansh Shah, Case Western Reserve
No. 5: James Shaheen, Wash U
No. 6: Warren Pham, Claremont-Mudd-Scripps
Doubles
No. 1: Hopper/Aduru
No. 2: Ian Freer/Matthew Robinson, Claremont-Mudd-Scripps
No. 3: Nathan Armilli/Christopher Li, Claremont-Mudd-Scripps
Team Sportsmanship Award: Gustavus-Adolphus College
Sunday's Final
Case Western 5, Washington University 1
Singles
1. James Hooper (CWR-M) def. Abhi Ramireddy (WASHUM) 6-3, 6-3
2. Vishwa Aduru (CWR-M) vs. Phuc Huynh (WASHUM) 6-3, 4-3, unfinished
3. Michael Sutanto (CWR-M) vs. Jared Phillips (WASHUM) 1-6, 5-6, unfinished
4. Ansh Shah (CWR-M) def. Gaurav Singh (WASHUM) 6-1, 6-3
5. Ajay Mahenthiran (CWR-M) vs. Pato Garcia Muriel (WASHUM) 6-2, 5-4, unfinished
6. Casey Hishinuma (CWR-M) def. James Shaheen (WASHUM) 7-5, 6-3
Order of finish: 1,4,6
Doubles
1. Aduru/Hopper (CWR-M) def. Abhi Ramireddy/Phuc Huynh (WASHUM) 8-4
2. Gaurav Singh/Scott Yamamoto (WASHUM) def. Chris Provenzano/Sahil Dayal (CWR-M) 8-5
3. Diego Maza/Sutanto (CWR-M) def. Colin Scruggs/Pato Garcia Muriel (WASHUM) 8-6
Order of finish: 1,2,3