Special from
Zoo Tennis
FLUSHING MEADOWS, N.Y. - The challenges grew with each new day at last week's US Open Junior Championships, with wild card Katherine Hui of the United States and Joao Fonseca of Brazil navigating every obstacle and opponent to earn their first junior slam titles. Hui defeated No. 9 seed Tereza Valentova of the Czech Republic 6-4, 6-4 in the girls final, with No. 7 seed Fonseca outlasting American Learner Tien, the No. 11 seed, 4-6, 6-4, 6-3 for the boys championship.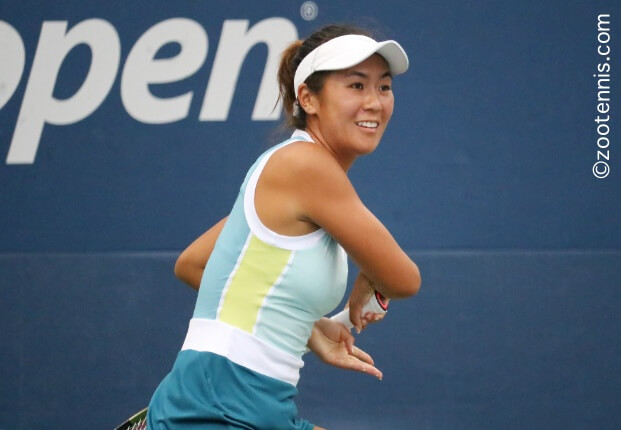 Junior US Open Girls Champion Katherine Hui
© Zoo Tennis
The 18-year-old Hui, who received her wild card as the USTA 18s Nationals finalist last month in her hometown of San Diego, marked herself as a contender for the title early in the week with an impressive 6-4, 6-0 second round win over No. 2 seed and Roland Garros finalist Lucciana Perez Alarcon of Peru. As temperatures rose, with the heat index often exceeding 100 degrees, Hui kept her time on court short, dropping just four games in her next two matches.
For the semifinals, heat was the first culprit in two major delays, followed by lightning and rain, pushing back the start time of Hui's match with No. 10 seed Laura Samsonova of the Czech Republic by more than six hours. That she managed a nap prior to taking the court demonstrated her ability to find some serenity after starting the day with predictable anxiety.
"The delay was long but it was actually really good," said Hui, who defeated Samsonova 6-2, 6-3 under the lights on the USTA Billie Jean King National Tennis Center's Court 7. "I had some nerves in the morning, and I was able to calm it down, so I think it helped me a little bit."