Special Feature
Dow Corning Tennis Classic's Outreach Programs Touch Thousands of Midland-area Students Each Year
by
Colette Lewis
, 14 February 2011
Kelli Close listened. Although the Midland Dow high school junior is understandably a bit fuzzy on exactly what WTA professional Petra Rampre of Slovenia said to Mrs. Steele's first grade class at Adams Elementary ten years ago, she has no doubt it served as a catalyst for her own tennis career.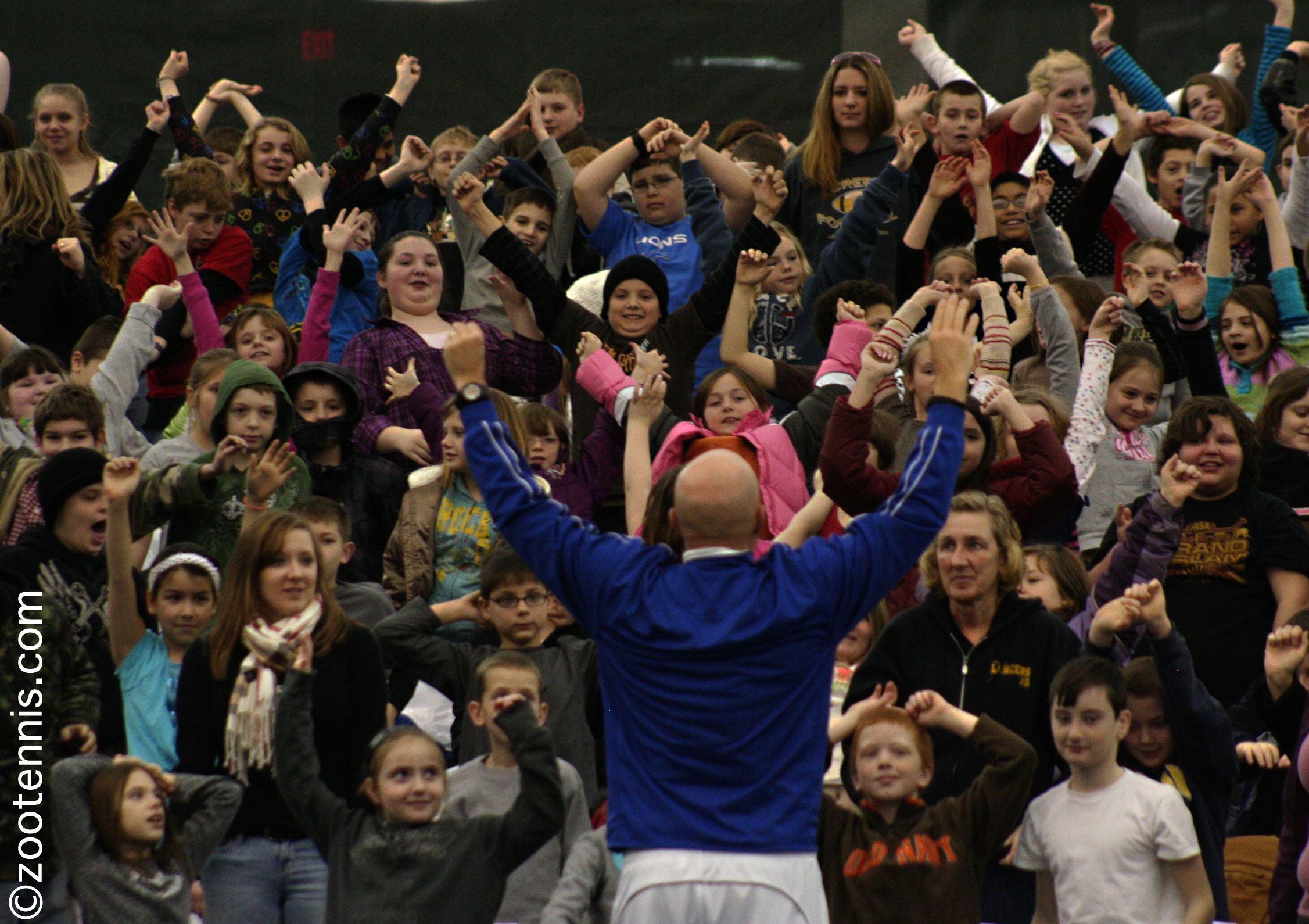 Tournament Director Mike Woody gets the kids fired up
©
ZooTennis.com
"She was super friendly," recalls the lively 16-year-old, who helped her high school team to a state title in 2009. "She read us stories, she told us all about tennis, the pros she gets to be friends with, everything that's good about tennis. It really gave me the drive to want to succeed more. I thought, oh my gosh, there's a pro tournament in my town. I want to play in it."
Close is just one of the thousands of youngsters who benefit each year from the Dow Corning Tennis Classic's outreach programs. Now in its 23rd year, the tournament is the only USTA Pro Circuit women's event to offer $100,000 in prize money, and every February the small mid-Michigan town of Midland channels its collective energy to provide a memorable experience for both the up-and-coming professionals and the 15,000 spectators who attend annually.
Named the Best Tennis Town in America in 2009, Midland has its Community Tennis Center as the sport's focal point, with 16 indoor courts hosting all manner and levels of tennis during the long Michigan winter. Yet for Dow Corning Tennis Classic tournament director Mike Woody, the connection between the tournament, its players, and the community goes beyond the game itself.
"What our sponsor Dow Corning wanted to be a part of from the very start was the community outreach, and the outreach that these pros can do in the schools," says Woody, who can be seen gesturing like an orchestra maestro to ensure the busloads of students who attend the tournament every day respond appropriately to the tennis action. "We're not about sponsoring a tennis tournament, we're about sponsoring a community event that will go beyond the walls of the tennis center."