Special from
Zoo Tennis
A summer without competitive tennis was enough to convince former University of Florida star McCartney Kessler to try her luck on the professional circuit.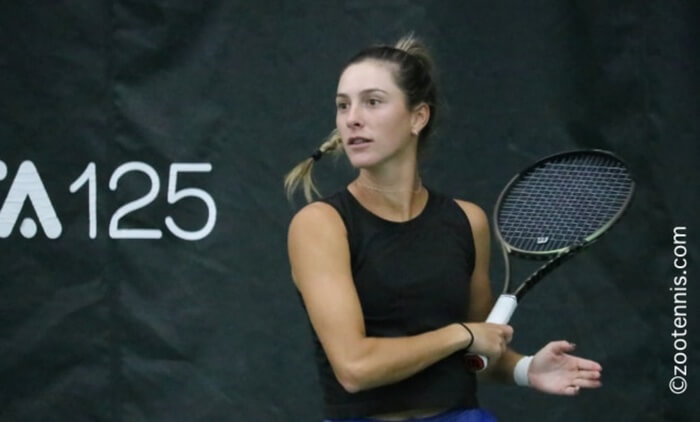 Kessler was a Three-Time All-American at Florida
© Zoo Tennis
Kessler had graduated with a degree in health education in August of 2021, then opted to return to the Gators for her fifth spring semester in 2022. After completing her eligibility while adding a certificate in Sports Management to her resume, the three-time All-American spent the summer working at a dermatologist's office before taking the plunge.
With coaching help from her brother McClain, a doubles All-American who played at Florida from 2016-2019, Kessler began competing on the USTA Pro Circuit, going 7-2 last fall before a shoulder injury ended her season in October.
Healthy and ready to start a full year on tour this January with a WTA ranking of 945, the 24-year-old from Calhoun, Georgia began primarily in qualifying at $25,000 tournaments, but by May had qualified for and reached the quarterfinals of a $60,000 tournament in Naples, Florida. The wins at $60,000 events began to come regularly this summer, leading to a qualifying wild card to the US Open, where Kessler picked up her first WTA Top 100 victory before falling in the final round of qualifying.
Last month, Kessler won her first professional singles title in her home state, a $60,000 level USTA Pro Circuit event in Rome. A first-round win over top seed Taylor Townsend–her second WTA Top 100 victory–avenged a loss the previous week to Townsend, and she went on to beat two more seeds en route to the title. Not only did the Rome title boost her WTA ranking, now 232, to 2024 Australian Open qualifying territory, it also put her in contention for the main draw wild card awarded by the United States Tennis Association, pending the likely acceptance into the main draw of the three players ahead of her in the recently concluded points race.
I sat down with Kessler at the WTA 125 Dow Tennis Classic in Midland, Michigan to discuss her rapid rise in the WTA rankings, her comfort level among the best in the sport, the most significant lesson she learned from college tennis, her new goals and many other topics.
Colette Lewis: Are you surprised how quickly you moved up the rankings?
McCartney Kessler: Yes and no. I had some ranking goals and I've definitely gotten to those goals quicker than I thought I would, which is really nice. But I think once you get to a certain level, everyone has the ability to do well, it just takes the right time and a little bit of luck maybe.