Commitment Profile
Countdown: Wolfpack Welcomes Ronald Powell
by
Ali Jones
, 5 April 2011
Ronald Austin Powell felt a nagging pain in his right wrist at the most inopportune time: he had flown all the way to Costa Rica for the 2009 Copa Cariari. Not one to shy away from challenges or pain, however, Powell soldiered on. He qualified for the singles main draw and made the finals of doubles.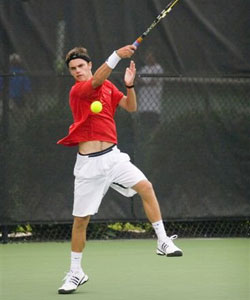 Back at home after the tournament, the Alabaman received shocking news about his wrist: it wasn't tendinitis as he feared, but much worse - torn cartilage that needed surgical repair.
"The summer of 09 I had my first wrist surgery," he recalled, "after I went through rehab and all that good stuff, it wasn't really fixed so I had to have another surgery." Ten months later Powell finally returned to competition. In the interim, his ranking plummeted (he held the South's top ranking in the 16s before the injury) and his development stalled. He had to start all over again.
"That was one of the most challenging things that I went through," he said.
Circumstances have since brightened up for the 17-year-old senior - in fall 2010, he signed a National Letter of Intent with the NC State Wolfpack.
"Ultimately, the coaching staff and players felt right at NC State," he explained. "We bonded really well ... and it just seemed like a place where I could improve as a player. I can envision NC State as a top contender in the ACC. I wouldn't go to a college if I didn't think we had a chance to do something really special."
Along with Powell, the 2011 Wolfpack recruiting class includes North Carolina's pride Robbie Mudge and Beck Bond, Connecticut's second-ranked player.
NC State Coach Choboy described his freshmen as "all high-integrity young men with character and class, and they're all very good students in the classroom."
The other schools Powell seriously considered were Alabama, LSU and South Carolina. He plans to major in business and later join his father's insurance and financial consulting firm.