College Commitment
Spring Signing Week '11: Callie Whitlock a Tar
by James Hill, 13 April 2011
Callie Whitlock of Richmond, Va., will soon become a Tar.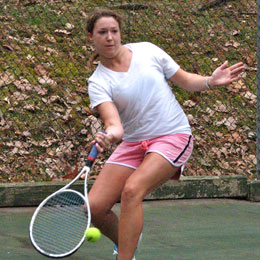 For those not familiar with that term, a Tar refers to a British sailor during the golden age of the tall ships.
It also is the nickname of athletic teams at Rollins College in Winter Park, Fla.
The latter definition is what Callie will become, as she has made a commitment to play on the Rollins Tars women's tennis team in the fall.
"I chose Rollins because it is a beautiful school and a great fit for me," said Callie, a four-star recruit. "It is a small school, which I think I would benefit from. And, it is Florida, which is perfect for tennis. I know the work I have done over the past years has paid off."
The Tars are a powerhouse team in the NCAA Division II, ranked ninth in the nation in the most recent Campbell's Intercollegiate Tennis Association poll. Led by head coach Bev Buckley, Rollins has made 16 consecutive appearances in the NCAA Division II Championships.
Coach Buckley, a 1975 Rollins grad, was a standout player for the Tars in their Division I era, which continued through 1993. She competed for seven years on the women's tour, including Wimbledon, the U.S. Open, the French Open, the Australian Open, and the Japan Open.
"I believe Callie can add depth to our lineup, not only in singles, but in doubles as well," said Coach Buckley, in her 24th season at the Rollins helm. "She's a strong player from the baseline, but she doesn't hesitate to move forward when the opportunity presents itself. Callie has an outgoing personality, so I know she will fit right in with the returning players, both on and off the court."