Recruiting Feature
2011 Top NCAA Division III Men's Classes
by TennisRecruiting.net, 13 June 2011
As we delve into June, our recruiting class rankings are moving towards conclusion. But before we wrap things up, The Tennis Recruiting Network is putting out its second annual rankings of NCAA Division III recruiting classes.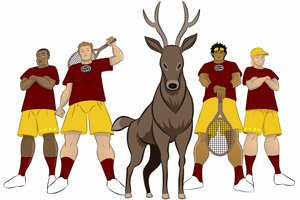 Division III tennis is very popular, and TennisRecruiting.net receives reports of many commitments to D-III schools. So far this year, there have been almost 500 commitments to D-III schools on the commitment lists, including 125 commitments from players rated 3 Stars or better.
With so much support for D-III programs, TennisRecruiting.net launched Division III recruiting class rankings last year. We are excited to return with the second edition here in 2011. Today we present the men's class rankings today - and Wednesday, we return with the women.
Top 25 NCAA Division III Men's Recruiting Classes (through May 29)
TennisRecruiting.net is excited to present the Top 25 NCAA Division III Men's Recruiting Classes for 2011. This list is based on commitments reported on or before May 29, 2011.
We enlisted the help of a number of NCAA Division III enthusiasts and insiders to aid in the rankings. While we do not publish a list of our helpers, we appreciate their assistance.
And now, take a look at the Top 25...
Also Receiving Consideration
A team of D-III insiders - including the Division III Blogger - reviewed the resumes of more than 50 D-III recruiting classes in coming up with these rankings. Other recruiting classes put forward by the insiders that almost made our list are (alphabetically) as follows: Bates, Coast Guard, College of New Jersey DePauw, Gustavus Adolphus, Nichols, RPI, Whitman, and Whittier.
Stampeding Stags
Claremont McKenna, Harvey Mudd, and Scripps colleges combine when they compete in intercollegiate athletics. Claremont-Mudd-Scripps - or CMS - compete in the Southern California Intercollegiate Athletic Conference, and their men's teams are known as the Stags.
Of course, if you follow D-III tennis, you are already familiar with CMS. The Stags have finished in the Top 10 nationally and won the SCIAC Conference Championship every year since 2006. Head Coach Paul Settles has certainly established CMS as one of the elite teams in NCAA Division III.
This fall, the No. 1 Division III recruiting class in the country arrives to help the Stags in 2011-12 and beyond. The three-man class is headed by Warren Wood (Del Mar, Calif.), who achieved a ranking of No. 52 among seniors before stopping junior play in January. In addition to his tournament play, the 6'0" right-hander led La Jolla Country Day to multiple CIF championships.
Add in Four-Star recruits Cameron Bernhardt and Nikolas Marino - also from California - and you get the No. 1 recruiting class.
Give Me Five
There was quite a bit of debate about who should get the top spot in the rankings. Support for Johns Hopkins, our No. 2 program, was quite strong. The Bluejays are bringing in eight athletes next season, including five 4-Star athletes from around the country: Tanner Brown (Tex.), Ben Hwang (Fla.), Noah Joachim (N.J.), Jensen Reiter (N.Y.), and Sam Weissler (N.C.). Those players should contribute immediately for the Black and Blue.
The Carnegie Mellon Tartans - with a class headlined by 5-Star recruit Johnny Wang - were No. 3 in the rankings. Washington University (No. 4) and Emory (5) round out the Top 5.
Conference Call
The University Athletic Association has capable teams when it comes to men's tennis. Just this season, the eight-team UAA advanced a pair of squads - Emory and Washington - to the Final Four, with Emory reaching the championship match.
On the recruiting trail, six of the eight UAA programs show up in our Top 25 recruiting classes, with three of them in the Top 10. Carnegie Mellon (No. 3), Washington University (4), Emory (5), Chicago (11), Case Western (17), and Brandeis (24) all represent the UAA in our list.
Other conferences with more than two programs in the rankings are the NESCAC (4 programs) and SCIAC (4).
State by State
The stronger teams in Division III tennis are spread out across the country, and the recruiting classes have a nice geographical distribution as well. Seventeen different states are represented in the Top 25.
Only one state has multiple teams in the Top 10, but which one? If you guessed California - usually the correct answer for these questions - you would be wrong. The Commonwealth of Virginia has two teams toward the top of the rankings, with Mary Washington (No. 9) and Washington & Lee (10) filling out the Top 10.
Looking more broadly, California does have more programs in the Top 25 than any other state. Joining the top class from Claremont-Mudd-Scripps are Redlands (No. 12), Cal Lutheran (18), and Pomona-Pitzer (22).
The state of Ohio has three teams in the rankings - Kenyon (No. 6), Denison (16), and Case Western (17) - while Massachusetts and Pennsylvania join Virginia with two programs apiece.
Coming Wednesday... the Women
On Wednesday, we conclude our look at 2011 recruiting classes with our Division III women's lists.
Leave a Comment
More Recruiting Class Rankings
6-Feb-2023
Top Women's Classes - 2023 Winter Rankings
The size of our commitment list is pushing 500 for the senior girls. With that in mind, today is a great time to check in on how schools are doing on the recruiting trail. Today, the Tennis Recruiting Network is proud to announce the Top 25 Women's Recruiting Classes for 2023.
30-Jan-2023
Top Men's Classes - 2023 Winter Rankings
As January comes to a close and the spring semester gets into full swing, today is a great time to take a look at the top college tennis recruiting classes. TRN is excited to present its 2023 Men's Recruiting Class Rankings - including the Top Dawgs ...
24-Jun-2022
2022 Top NCAA D-III Women's Classes
TRN wraps up three weeks of recruiting class rankings with a look at Division III. Our final list of the season shows the Top 25 NCAA Division III recruiting classes.