Tournament Summary
Quigley, Tedjakusuma Win Midwest Sectional Event to Return to US Open National Qualifying Playoffs, Local Team Claims Mixed Title
by
Colette Lewis
, 10 June 2011
Dream Big is the USTA's marketing slogan for its US Open National Playoffs, a slogan Eric Quigley and Romana Tedjakusuma took to heart in 2010, when they, along with hundreds of other of USTA members across the country, competed for a chance to play in the 2010 US Open.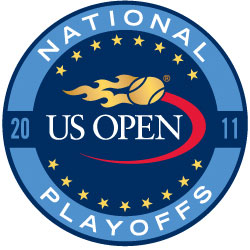 Offering the prize of a US Open qualifying wild card, the USTA established sectional tournaments throughout the country, open to any USTA member with $125 to spend on the entry fee. Those earning sectional titles advanced to national playoffs, where Blake Strode and Alexandra Mueller won the coveted wild cards in the US Open men's and women's qualifying draws.
Quigley and Tedjakusuma succeeded in winning sectional titles in 2010, but fell in the opening round of the national playoffs, so last weekend at the Midwest sectional playoffs in Cincinnati they began their quest for another chance at the qualifying wild card.
The three-day tournament, which included men's singles, women's singles, and, for the first time, mixed doubles, concluded Monday, providing an atmosphere for the competitors that was both reminiscent of Flushing Meadows and nothing like it.
With temperatures in the upper 80s and the humidity high, the weather was similar to New York in late August. And while playing with a full complement of officials on courts lined with US Open banners, players could almost imagine themselves on the outer courts at the USTA Billie Jean King National Tennis Center, with the corporate jets landing at Cincinnati's Lunken Municipal Airport substituting for the commercial traffic at LaGuardia.
But there were no ranking points or prize money on offer during Monday's matches, just a chance for those rewards many weeks and victories in the future. And instead of the US Open's roaring thousands, entranced by every point, the dozen or so spectators for the semifinals and finals consisted mostly of family and friends, with an occasional visit from a Quickstart class or a junior clinic participant at the city's Lindner Tennis Center facility.
It was one of those friends in attendance who brought the 34-year-old Tedjakusuma of Indonesia to the Midwest to compete in his section, a year after she won the 2010 sectional qualifying in Northern California, where she lives.