Commitment Profile
2012 Commitment: Andrew Korinek a Longhorn
by
Ali Jones
, 13 July 2011
Last summer, as a rising junior seeded 5th at Texas' premier sectional tournament, Andrew Korinek blew through the 18s division to win the title, firmly establishing himself as one of the top Texas juniors of his generation.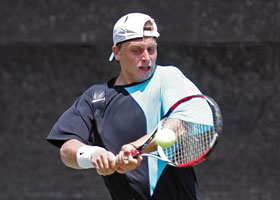 "2010 Grand Slam 18s was about the best tennis I've ever played," the blue-chip athlete said.
A few days later, still riding high on his victory and only 16 years old, Korinek called Texas Coach Michael Center. To Korinek's surprise and delight, Coach Center offered the newly minted champion a spot on the Longhorns team.
"He said congratulations [on winning the Grand Slam] and then he ended up asking me if I wanted to commit that day," the Mansfield High student said. "It was completely unexpected. I was really shocked; I didn't know what to say for a second. And then I was like ummm, let me think about it - it's really, really early. For a really big decision I needed more time to think about it. I needed to talk to my parents. He told me to think about it and give him a call when I made my decision."
The Korinek family's Longhorn roots are deep - both of Andrew's parents attended Texas and three siblings are currently enrolled there. It was inevitable that Andrew would be steered toward Austin, but he was still surprised by the early offer.
Coach Center has led the Longhorns to the NCAA semifinals or better in three of the last six seasons, and Texas has made NCAA Championships appearances in each of Center's 11 seasons. Korinek was an obvious fit.
After the phone call, the Korineks went to Hawaii on vacation and while there they talked about Andrew's college prospects.
"If I could go anywhere to any college in the nation, which college would I choose," Korinek recalled his parents asking him. "I said Texas. U.T. has always been where I wanted to go more than any other place."
As soon as they returned home, Korinek called Coach Center.
"I made my decision," he said. "Yes, I would like to commit to Texas. Coach Center told me he was excited, and he congratulated me."