Player Advice
Up the Middle, Solve the Riddle
by Paul Thomson, Drake Women's Tennis, 18 November 2011
I have been around tennis for more than a quarter-century. It's amazing enough to be able to say I have done something for more than 25 years and rather than feeling old I like to think of myself as mature and experienced. The greatest thing I have been able to appreciate throughout my career is how athletics, particularly tennis, mirrors life and its challenges.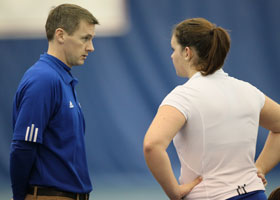 Coach Thomson with his
Drake
Team
courtesy, Drake Athletics
I have had the fortune of watching and learning from some of the greatest coaches and leaders in the country -
Notre Dame
's Bob Bayliss,
Brevard College
's Paul Hamilton and Dan Vonk, a high school coach in southern Georgia who leads by example and has made such a positive mark on his small community. They are among my role models.
Another one of my biggest influences is former Clemson Coach Chuck Kriese. He's a guy who's not afraid to let others learn from his mistakes as well as his successes. He's a coach and leader who has forgotten more about tennis than most of us know. From him I've picked up coaching strategies and thought, but the biggest lesson I learned is how to be a good leader, coach and father. Coach Kriese always teaches "process over product." Focus on the little things, the details. Tennis, as well as life, is not a cluster of big events. It is comprised of a series of little events that lead to the big events. It's not as much being focused on the goal but the steps we take to reach the goal. I call it ABC tennis and by that I mean "small things, big results."
Tennis is a very difficult game. It tries our patience and can strengthen our resolve. Anyone who has ever played it can tell you how frustrating and humbling the game is. It's a game that teaches players how to lose. Only one of 64 players in a tournament will finish with a win. Over three sets a player can make more balls, win more points and more games than his opponent and still lose. Players are on an island by themselves, fighting, scraping, and battling not only their opponents (self vs. other) but their own nerves, emotions and fatigue (self vs. self) and the elements (self vs. nature). Players battle as others do in their everyday lives--other businesses or personal adversaries (self vs. other) guilt, anxiety, doubt in ourselves (self vs. self) and even the weather can throw a wrench (self vs. nature).
Tennis, like life, is a struggle. It's a game of discipline and of choices. When a player is reckless or undisciplined the unforced errors are certain to come back to haunt him. Tennis and life both have ebbs and flows and ups and downs. Pressure, stress of performance and dealing with tough losses and defeat are eerily similar. Tennis and life are both challenges of "Doing the Right Things," and not just "Doing Things Right."