2006 NCAA Division I Tournament
First Combined NCAA Championships a Rousing Success
by
Colette Lewis
, 5 June 2006
When the NCAA decided to combine the men's and women's Division I team and individual championships at one site, they undertook a college version of a Grand Slam, with Davis and Fed Cups thrown in for good measure. Recognizing that the first would be the most difficult, they wisely selected Stanford and Dick Gould as hosts.
One unexpected challenge was bad weather; Northern California's late May climate is predictably sunny, warm and rain-free. But not in 2006. Rain early in both the men's and women's team events drove (literally) everyone indoors, to the San Francisco Tennis Club, some 30 miles distant, and one of the few sites in the Bay Area with sufficient indoor courts.
Team Competition
After that cramped and noisy setting, it was a relief to return to the sunshine and spaciousness of the Taube Tennis Center, and most of the top teams survived the trip. It was the Miami Hurricanes on the women's side who produced the upsets; seeded seventh, they took out No. 2 Notre Dame and No. 3 Southern California to reach the final. Awaiting them there were the overwhelmingly favored Stanford women, who were seeking their third straight NCAA title and had not dropped a point in their previous five matches.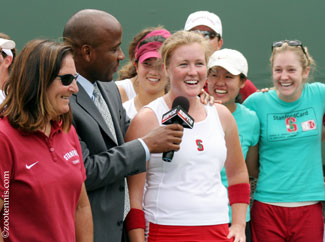 There was to be no tennis version of the 1980 Olympic hockey "Miracle on Ice," for the Hurricanes, but the feisty Miami women did stave off the remarkably deep Cardinal long enough for Audra Cohen, the Hurricane's No. 1, to defeat Amber Liu and avoid a shutout. Moments later, Theresa Logar clinched the title for Stanford at No. 3 singles.
With the victory, Lele Forood's team now has an NCAA record 86-match winning streak and senior Alice Barnes, the tournament's Most Outstanding Performer for the third consecutive year, was determined to stop and smell the roses.
"I think there's a danger with Stanford tennis that you will take everything for granted and never sit back and enjoy your wins," said Barnes, a team captain. "I think now that the season's over and we've done what we wanted to do we need to sit back and enjoy the fact that we were a part of history."