Commitment Profile
Countdown: Watrous Heads to Colorado
by Rhiannon Potkey, 26 October 2011
The questions could have offended Mazy Watrous, but they inspired her instead.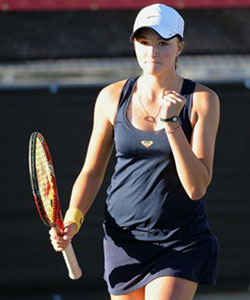 Once she verbally committed to the
University of Colorado
, the five-star recruit was asked why she was leaving Southern California.
Watrous was asked why she didn't choose a program with more national prominence. She was asked why she didn't join a program with a more successful history.
"Honestly, when I walked onto the CU campus and learned a little bit more about what the team hasn't done yet, it actually became more desirable to me because I've always felt like the underdog," Watrous said. "Having an opportunity to go to CU and do something for that team would be so rewarding. I feel like it's a pivotal time for CU and I really want to help make a difference."
Watrous, a Newport Beach resident, will have that chance while playing against some of the top players in the nation. Colorado and Utah joined the Pacific-12 Conference this year, which made Watrous' decision even easier.
"Being a So Cal girl, I really wanted to be out of So Cal but still play in this conference," she said. "My parents were more than thrilled too. Their biggest concern was getting to see me play. They weren't going to hold me back no matter where I went, but for them to be able to see me play is a huge bonus."
After exploring and researching her college options, Watrous narrowed her list to only two - Colorado and Ole Miss.
Watrous said having to call and tell Ole Miss head coach Mark Beyers she was not coming was extremely hard.
But Beyers provided a refreshing example of civility in the often cutthroat world of recruiting.
"I saw him at Super Nationals, and he shook my hand and said, 'Good luck Mazy. I think CU is really good fit for you,' and he made me feel even more confident," she said. "He was genuinely glad for my decision. It was awesome."