Recruiting Profile
Bjorn Fratangelo Contemplates His Tennis Future
by
Colette Lewis
, 23 September 2011
Until the first Sunday in June, college tennis was certainly option number one for Bjorn Fratangelo, the Tennis Recruiting Network's top recruit in the class of 2012. Although he had been ranked No. 1 in the USTA's 18s division and won the Easter Bowl, the USTA's Spring Championships, and the Clay Courts in 2010, his less distinguished results in Futures and ITF Grade A events - and the trend away from teenage breakthroughs - made college tennis the obvious choice.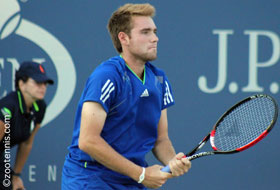 Then Fratangelo, unseeded, won the
French Open junior championship
, the first American boy to take that title since John McEnroe in 1977, beating No. 14 seed
Dominic Thiem
of Austria 3-6, 6-3, 8-6 in the final.
Just a month later, Fratangelo reached his first Futures tournament final, also on clay, in his hometown of Pittsburgh, and along with promising performances in two other professional tournaments during the summer boosted his ATP ranking into the 700s.
"For me, it all happened so fast, I couldn't have predicted it, and I don't think anyone else could have either," said Fratangelo of his win in Paris. "But I came in there, played match by match and really got better with each match, kind of caught fire. The whole week, in situations when I was down, I never felt like I was going to lose. The courts were playing perfect for the style of game that I have."
Any American success on red clay is newsworthy, so Fratangelo got plenty of attention for ending a 34-year drought. In addition to the media notice, which focused on his first name, a tribute to 5-time French Open champion Bjorn Borg, Fratangelo also received calls from several sports management agencies.
Acknowledging he had wanted to be a professional tennis player since age 3 and that his performance in Paris had given him the self-belief he could do that without attending college first, Fratangelo was still cautious.
"The first thing I said to my parents, my family, after I won the tournament, was it's one result, and one result doesn't make your career, especially in a junior tournament," Fratangelo said.
"So I'm taking things slow right now, doing things smart by not rushing into it. You see players make the jump early and then they fail and don't know what to do - it's like the end of the road."