Commitment Profile
Countdown: Nicholas Naumann Picks Texas
by James Hill, 31 October 2011
Nick Naumann has decided to don the Burnt Orange and become a Texas Longhorn when he signs the National Letter of Intent in November. He chose Texas without making an official visit, but he planned to make the trip in late October.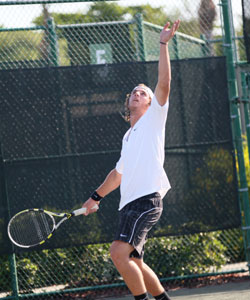 The 18-year-old from The Woodlands, Texas, verbally committed to Longhorns coach Michael Center on July 26. Coach Center is not able to comment on his soon-to-be new blue chip player until the letter is officially signed.
"I chose Texas because my parents (Steve and Karen, class of '83) are Longhorns, and I have been a Texas fan all of my life," Nick said. "I have always wanted to be a part of the Texas team. I know some of the players on the team - like Ben Chen and Daniel Whitehead - who are from Houston. I just want to do my best - and to help Texas win a national title. Coach Center and Coach (Ricardo) Rubio seem to care a lot about your tennis, and they will help you become a better player."
The Longhorns are one of the most accomplished teams in college tennis over the past decade. Coach Center has guided Texas to the NCAA semifinals or better in three of the last six seasons. Included in Coach Center's résumé is a trip to the NCAA Championship match in 2008.
Nick is following in the footsteps of his grandfather, Terry Townsend, who played tennis for the Longhorns during the 1953-54 season. Mr. Townsend decided to forgo his collegiate tennis career and go to work to support himself so he could graduate.
A product of the Houston Tennis Academy, Nick is ranked No. 15 nationally on the Athletic DNA Rankings with an RPI ranking of 42. Nick reached the semifinals of the Boys 18 Spring Championship at Mobile, Ala., this past March. He advanced to the third round of this year's Boys 18 Nationals at Kalamazoo, Mich. He has achieved a top-20 ranking in every national age group and attained an ITF rank of No. 200. Nick has won four ITF tournaments in doubles, and he was runner-up at a Grade 1 category.
He played for Cavaliers coach Henry Garza at College Park High School in The Woodlands during his first two years. In 2010, Nick and partner Nate Lammons advanced to the state high school Class 5A doubles championship match. Nick decided to study online during his junior year so he could travel to tournaments and hone his game, but he is looking forward to finishing out his senior year at College Park.