Tournament Summary
Krueger and Townsend Take Titles in Tulsa
by
Colette Lewis
, 20 October 2011
Winning the ITF Grade B1 Pan American tournament, which is closed to players outside of North and South America, is an important step in securing entry to the junior slams for the following year.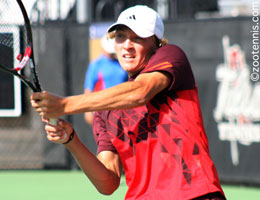 During last week's tournament, held under ideal weather conditions at the Michael D. Case Tennis Center on the
University of Tulsa
campus, 17-year-old
Mitchell Krueger
and 15-year-old
Taylor Townsend
set themselves up for trips to Melbourne, Paris, London and New York in 2012, with impressive performances throughout the week, culminating in straight-set wins over fellow Americans.
Krueger, the top seed in the tournament, lost only one set in his six wins, and in the semifinal ousted No. 3 seed and defending champion Filip Peliwo of Canada by a surprisingly one-sided 6-2, 6-2 score. In the final against unseeded 15-year-old Noah Rubin, who had taken out No. 4 seed Connor Farren in the quarterfinals and No. 2 seed Marco Aurei Nunez of Mexico in the semifinals, Krueger prevailed 6-4, 6-1, using his experience to beat back the newcomer's challenge.
As evidenced by their towels - Krueger's was an official Roland Garros model, while Rubin's was from the US Open, the only ITF tournament he had ever played prior to Tulsa - Krueger had a substantial edge in international competition at the ITF's top level. He demonstrated that when he kept his composure despite losing a 4-0, 40-0 lead in the opening set.
"I guess I just let up a little bit mentally," said Krueger, who competed in all four junior slams this year. "I think I double faulted on one or two of the points and he hit return winners. I wish I could have stepped on him a little more, but I'm glad I got away with that last deuce game."
After being broken serving for the set at 5-3, during which Krueger approached the net three times, getting passed twice and missing a volley on the third, Krueger played one of his classic multi-deuce games on his opponent's serve. Although only eight deuces - short when compared to Krueger's previous 10-deuce and 11-deuce games in earlier wins - it was tense and dramatic nonetheless.
Krueger, telling himself to "step up man," on numerous occasions, had four set points before Rubin finally earned a game point. Alternating forced errors with outright winners, neither Rubin nor Krueger was tentative. Rubin had two more game points and Krueger had another set point before Krueger finally took it with a gigantic forehand winner just inches from the baseline.