Commitment Profile
Fall Signing Week '11: James Boyd a USD Torrero
by Rhiannon Potkey, 7 November 2011
James Boyd thought he wanted to go far away from home for college. He thought it would be easier to exert his independence in a new area of the country.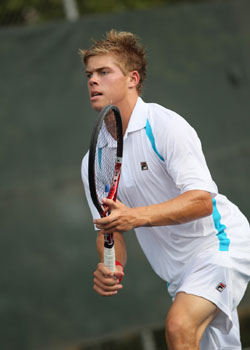 But Boyd eventually discovered there was a diamond located right in his own backyard.
The Rancho Santa Fe resident couldn't pass up the chance to play for the University of San Diego.
"I realized how awesome USD is and how awesome the city of San Diego is to live in," Boyd said. "I never really had it in my mind at first, but once I looked into it I knew I couldn't really leave. USD has the atmosphere of a national championship team right next to my house."
Boyd was born in the San Diego area before moving to Michigan for the first five years of his life. But his parents "came to their senses" and the family moved back to sun-splashed San Diego again.
Boyd started playing tennis recreationally at age 9 because he wanted to see if he could beat his cousins.
The five-star recruit entered his first tournament a year later, and gradually the sport began to take hold.
"My dad still remembers the day I told my parents I didn't want to play any other sports," Boyd said. "I had been playing soccer, baseball and getting into surfing, but I told them I wanted to be a good tennis player and that was when I really got hard core and started training hard."
Boyd was attracted to tennis because of the self-reliance involved.
"I kind of like having myself to blame and kind of celebrating with myself when I win," he said. "I am not too much of a ball hog in soccer or basketball, but I kind of like the feeling that you live and die by your own sword."