Who's Hot?
Prince Hot 100 List - December '11
by Amelia Thomas, 19 December 2011
Though December is a busy month for many, junior tennis players make time to impress on the court. Juniors with the best performances show up in the final edition of the Prince Hot 100 for 2011.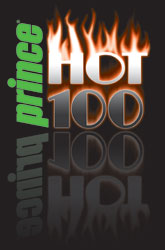 The Prince Hot 100 lists are published each month, and the December Hot 100 lists feature the one hundred boys and girls who most improved their ranking during the month of November. You can find out more about the Prince Hot 100 - and how the lists are calculated - by reading here.
The very latest lists, published earlier today, are available here:
We talk with a few players who turned in strong performances...
Roundup
Ruth Crawford (Atlanta, Ga.)
Some players say their technique or workout regimen sets them apart from their peers, but this three-star sophomore has a much more unique story.
What distinguishes Ruth Crawford is how she got into tennis. Crawford grew up in Ghana, and she first became interested in the sport because of her dad. As a coach, he encouraged Crawford and her brothers to play with the local kids and coaches.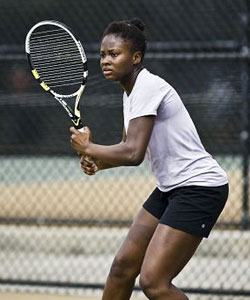 3-Star Sophomore
Ruth Crawford
© Doug Wrege, TennisRecruiting.net
Crawford grew up playing on old public courts that sometimes didn't have nets - and usually had huge holes in the ground. She and her brothers would walk four miles to and from the nearest public court, and there were no organized tennis programs.
Nevertheless, Crawford played as often as she could to improve. Her dad moved to the U.S. for better opportunities, while Crawford and her brothers stayed in Ghana. In 2006, however, the rest of the family followed their father to the U.S. to pursue their academic and athletic goals.
In 2009, Crawford was invited to play on the Ghanaian National Team at the African Junior Championships in Morocco. As a result, she earned a scholarship to train at the ITF training center in Pretoria, South Africa for a month. She has also trained at the Barcelona Tennis Academy in Spain.
With all these accomplishments, it's no wonder that Crawford appeared on the Hot 100 list this month. But Crawford does not cite her history as the reason for her recent success. Instead, she credits joining the Hobson Performance Tennis Academy. She has been working with coach Ashley Hobson to build different areas of her game. "He is helping me to use my height to build weapons that will help me play aggressively," Crawford said. "My serve has improved significantly, and overall my confidence is high."
Her recent work showed through last month in two tournaments, the CTA Charlotte Junior Classic and the UTA Junior Championships. Crawford won both of them, bringing her record for the month to 9-0 and catapulting her nearly 100 spots on the Class Rankings.
Of these nine wins, Crawford cites her victory over Ono Yuriko in the finals in Charlotte as her best. Crawford went into the match without any scouting report on Yuriko. "I started pretty aggressively, but she countered most of my big shots," Crawford said. Nevertheless, Crawford won the first set, 6-3.
"It just set me in a mental battle because I was being more reactive than being proactive. I found a way to hit more neutral - and force errors from [Yuriko] by being more consistent," Crawford said. She pulled through with a 6-3, 6-2 victory.
Crawford does not only celebrate accomplishments like this. Her family history prompts her to give back to those who started out in tennis like her. "Ruth is always looking for ways to help other players back in Africa who have taken up tennis but do not have the means to get all the necessary equipment," Crawford's father, Roger Crawford, said. The Crawford family has even set up a foundation for their cause.
Crawford is also a member of the Eden Prairie Lifetime High Performance program. With her growing skills and good karma, this will not likely be the last we see of Ruth Crawford.