Recruiting Profile
No. 1 Schneider Commits to North Carolina for 2013
by
Colette Lewis
, 15 March 2012
Ronnie Schneider, the Tennis Recruiting Network's top recruit in the class of 2013, had 24 colleges on his list when he started working through the process during his sophomore year. After winning the 16s title in Kalamazoo last August, that list was whittled down to 10, and last month there was just one school remaining - the University of North Carolina at Chapel Hill, which has received Schneider's verbal commitment.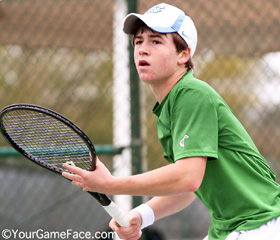 Schneider's methodical approach included multiple unofficial visits and he spent time at
Wake Forest
,
Duke
,
Ohio State
and
Indiana
, the hometown university of the Bloomington, Ind. resident. But an additional visit to North Carolina last month, which included an overnight stay in a dorm, sealed it for him.
"When I got back from my visit to North Carolina for a second time, I said, I really want to go here," says Schneider, 17. "I don't want to wait, there's really no reason for me to wait when I know what I want to do, so I just went ahead and made the decision."
Schneider cites many reasons for choosing North Carolina, beginning with tennis, but not ending there.
"The coaches were great, I really like the guys on the team, especially the ones I'm going to be with when I get there, and I really like the facility. The campus is absolutely beautiful, and I want to study business, with the business school top five in the country. It was an all-around perfect combination."
When Schneider joins the Tar Heels, he will already have plenty of experience with both team tennis and classrooms, as he attends Bloomington High School South, where he has won two state high school championships while savoring the life of a normal teenager.
"I really actually enjoy the whole public high school experience," says Schneider, who has lost only one match, when he was a freshman. "Our town has two high schools and I have a ton of friends from both. The weekends I don't have tournaments I'm over at friends' houses Friday and Saturday nights."
With his coach Bryan Smith an hour away in Indianapolis, Schneider has had to independently control his own tennis training, overseen by his father Ron, a former college player at the University of Evansville, who introduced him to the sport at age 5.
Up until eighth grade, Schneider played travel baseball and basketball, and although his mother Anita was reluctant to see him give up the team sports, Schneider believes his father knew he would ultimately concentrate on tennis.
"Once I reached high school, I knew I had to cut those off to focus on tennis," says Schneider, "and [my dad] was always very supportive and helped with both basketball and baseball, but I think we both knew in the back of our minds that tennis would be the one I would stick with."