Commitment Profile
Spring Signing Week '12: Henry Craig Heads to Denver
by Rhiannon Potkey, 10 April 2012
If not for a sign alongside the road, who knows if Henry Craig would have ever discovered tennis.
Driving home from school one day seven years ago, Henry's father spotted an advertisement for tennis lessons posted on a pole.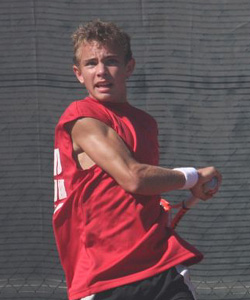 He asked Henry if he wanted to try and Henry said, "Sure."
Henry's father dialed the number and Henry soon found his own calling.
"It is very random, but life is random," Henry said. "You never know what is going to happen. But once I started playing, it was just so much fun. And it's still fun - that is the key."
From his humble beginnings, Craig has developed into a blue-chip recruit.
The Murrieta, Calif., native recently signed to play at the University of Denver.
"I know I made a great choice," Craig said. "The team is incredible and I really like how hard they worked when I was there on my official visit. It just seemed like they were working harder than everybody else and had more intensity."
Getting to play for Denver coaches Danny Westerman and Chris Lam was also a big reason Craig decided to attend the oldest and largest private university in the Rocky Mountains.
"They both played fairly recently on the tour, and they know what they are doing coaching wise," Craig said. "Their relationship with their players is really strong, and I am excited to play for them and learn from them."
Before starting tennis at age ten-and-a-half, Craig was a talented gymnast. His team was ranked highly in the state and region and he trained for hours each day.
"The practice hours were ridiculous, like from 5-9 at night, and I didn't really want to do that since I was still pretty young," Craig said. "But I think the gymnastics probably helped me with my tennis. The strength and balance really transfers from one sport to the other."
Although he had a later start in tennis than some of his peers, Craig believes it has benefited his growth.