Who's Hot?
Prince Hot 100 List - March '12
by Amelia Thomas, 20 March 2012
As the months get closer to spring, junior tennis players are turning the heat up in their games to match the changing weather. We caught up with a few of those recruits - in the March edition of the Prince Hot 100.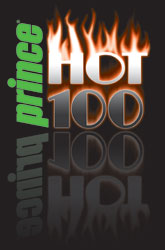 The Prince Hot 100 lists are published each month, and the March Hot 100 lists feature the one hundred boys and girls who most improved their ranking during the month of February. You can find out more about the Prince Hot 100 - and how the lists are calculated - by reading here.
The latest lists, published earlier this week, are now available:
We checked in with a few of these top performers...
Roundup
Austin Hussey (Edgewood, Ky.)
Tennis has surrounded four-star freshman Austin Hussey his whole life. He grew up in a family of college and professional players. His mother, Kara Hussey, played Division I college tennis and then went on to play on the WTA pro tour. His aunts Lyndsey Molony-Maynard and Molly Molony played Division I tennis as well. Finally, his great-grandpa and grandparents all played college tennis, too.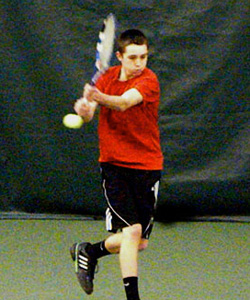 With this family history, it is not a surprise that Hussey was drawn to tennis. Even so, it took Hussey some time to fully focus on the sport. Growing up, Hussey played basketball, soccor, baseball, golf, and swimming in addition to tennis. Basketball was always his favorite sport, taking up the majority of his time.
Hussey began to wonder last summer, however, what would happen with his tennis game if he played year-round, rather than taking an off season from October through March. Instead of picking up the racket just in time for summer tournaments, Hussey would have all winter to prepare.
"I decided that I wanted to play tennis seriously for one year and see what would happen," Hussey said. In order to make this choice, the six-foot recruit had to think seriously about his athletic priorities. He realized that he needed to give up basketball.
"The decision not to play for my high school basketball team surprised my parents, family, and friends, and I did have a lot of days where I wondered if that was the right decision because I loved playing basketball," Hussey said. "But after having some encouraging wins in the last couple months, it is making me realize it's been worth it, and it motivates me to keep working hard and see where I am a year from now."
Although Hussey's decision surprised his family, they believe he made the right choice. "Austin has really worked hard since the fall to capitalize on not playing basketball, committing to tennis, and developing his game this winter, and I think the hard work paid off for him this past month," Kara Hussey said.
She was right. Austin Hussey competed in three tournaments in February, achieving an 8-2 record for the month. Austin's highlights for the month included winning titles at the President's Day Open and the USTA Midwest Championships.
Although giving up basketball was a difficult decision, it allowed Hussey to achieve these results last month. Hussey has still made time to stay involved with basketball by helping to coach his six-year-old brother's basketball team. "I also look forward to helping my brothers play tennis this summer - and I enjoy teaching tennis to little kids overall," Hussey said.