Commitment Profile
Spring Signing Week '12: On the Court with Connor Clements
by Sonny Dearth, 11 April 2012
Special from the
Newport News (Va.) Daily Press
While other players were developing higher rankings, Connor Clements was developing his tennis skills.
While other players were studying in public or private school, Clements was studying online.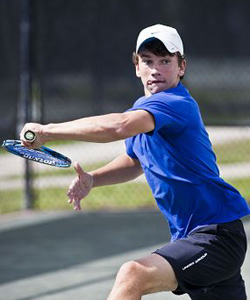 Connor Clements
has committed himself to tennis
© Doug Wrege, TennisRecruiting.net
Years later, the rankings reflect how well the road less traveled seems likely to get Clements to a favorable college destination.
Clements, a left-hander who has ascended to No. 2 in South Carolina and No. 22 nationally in the Athletic DNA Class Rankings for the senior Class of 2012, plans to choose his college later this spring. He said he's strongly considering Illinois and South Carolina, "but I'm still open to other colleges contacting me."
Clements is originally from Atlanta, but his family moved to Charleston eight years ago when his father transferred because of his job with a bank.
Golf, swimming and soccer interested Clements, but tennis soon became his passion. He learned the basics at the Family Circle Tennis Center.
"One of our friends that I met just was like, 'Come on out and hit with us.' It was pretty much all recreational," he said.
"But as I went on, I was actually enjoying it a lot more. I was very, very competitive with it. I told my parents that I needed to go somewhere else" for a higher level of training and competition.
That next step came at the Creekside Academy, where he met coaches Fritz Nau and Brian Minton. They helped convince Clements that he could play not just in high school, but also in college.
"They definitely saw a lot of talent in me," Clements said. "You had to be very serious to play there. It was about three or four hours a day."