Who's Hot?
Hot 100 List - April '12
by Amelia Thomas, 16 April 2012
If you've been around TennisRecruiting.net at all for the past five weeks, it's been all Signing Week, all of the time. With Spring Signing Day in the rearview mirror, we get back to our basic content. Today, we take time to recognize notable junior players - with the April edition of the Hot 100.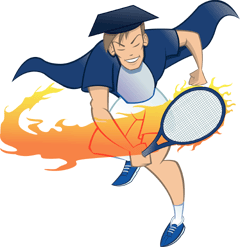 The Hot 100 lists are published each month, and the April Hot 100 lists feature the one hundred boys and girls who most improved their ranking during the month of March. You can find out more about the Hot 100 - and how the lists are calculated - by reading here.
The latest lists, published earlier today, are now available:
We checked in with a few of these top performers...
Roundup
Marcus Smith (Little Neck, N.Y.)
What separates three-star freshman Marcus Smith from many other junior players is his coach. Unlike most tennis players, Smith doesn't spend much money on expensive coaches and trainers. His father, Todd Smith, coaches him.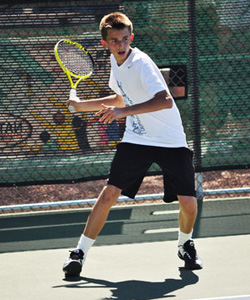 "My dad is only a 4.0 player and has coached me to become a very highly-ranked player, while some other kids spend a lot of time, money, and effort on very high-class and expensive coaches," Marcus Smith said.
Todd Smith is the reason Marcus initially got into tennis. "I gave him four options, and it was his choice," Todd Smith said.
"I got into tennis because of my father, as he grew up in Douglaston-Queen sand played a lot of tennis," Marcus Smith said. "He was very good friends with John and Mark McEnroe and babysat Patrick McEnroe. We did many other sports at a young age until I was 12, and I decided to stick with tennis."
Todd Smith agrees that his close work with his son has allowed Marcus to make improvements to his game. "His hard work that he has been putting in since he was young is starting to pay off. He is playing a lot smarter than he has played in the past," he said.
According to Todd Smith, some of Marcus's recent improvements include his backhand. "He has very good topspin on his backhand, which many other players don't really have," he said. "This is due to the fact that he was taught to hit topspin on that wing and because he is half-German and plays on red clay in Germany every summer."
Marcus Smith's work with his father helped him out in three tournaments last month: the Level 1 Alley Pond Eastern Designated Closed, the Level 1 Sportime Syosset March Championship and the Level 1 Eastern Designated Closed. Smith reached the quarterfinals of the Sportime Syosset Championship and the quarterfinals of the consolation round of the Eastern Designated Closed. His wins brought his record for the month of March to 8-3.
One win that stood out for Smith was against three-star sophomore James Heaney in the round of 16 in the Eastern Designated Closed. "He is a very good player that doesn't play many tournaments," Smith said. "We were both playing extremely well the second set, and in the tiebreak, I couldn't miss. The final score was 6-3 7-6. I also played a very good match against Zachary Niklaus, even though he retired."
Smith's recent improvements have given him high hopes for the future of his game. "My goal is to receive a scholarship to play D-I tennis," he said.