Tournament Summary
Schaefer, Hafezi, and Pelletier Win Titles at The Ojai
OJAI, California - Hardcore tennis competitors know it simply as "The Ojai," a rite of passage in American amateur tennis.
In the 112 years of the Ojai Valley Tennis Tournament, Bill Tilden, Ellsworth Vines, Bobby Riggs, Billie Jean King, Arthur Ashe, Jimmy Connors, Tracy Austin, Michael Chang, Pete Sampras, Lindsay Davenport, and Bob and Mike Bryan have made the trek to this charming little town in the Southern California foothills, and they have hoisted championship hardware.
Among the newest junior champions are Dominique Schaefer (Girls' 14s), Arash Hafezi (Boys' 14s), and Jacqueline Pelletier (Girls' 16s).
Dominique Schaefer, Girls 14s
Dominique Schaefer, the reigning 2011 Eddie Herr Girls 12 champion, displayed a performance that validated her spot as the top seed. She dropped only seven games in four matches en route to the title, beating her friend and unseeded surprise finalist Seira Shimizu in straight sets 6-3, 6-3.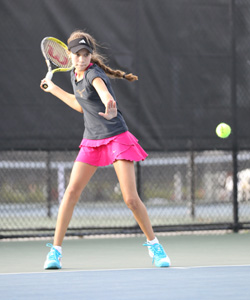 "I wanted to get to the finals and I wanted to play very well, too," the blue chip recruit said of the tournament's goal.
While she lives 25 minutes away, the 13-year-old champion trains at the Weil Tennis Academy in Ojai and is a local favorite. As the top seed, the girls were all gunning for her. But she wanted to do better than she did last year, when she fell one victory short of clinching the title.
"Once I get on the court I really forget about being nervous," said the 5-foot-4 teen-ager. "It was hard to play a friend. We really know each other very well, but it's fun too."
Schaefer's plan against Shimizu, who is from Japan and who also trains at Weil, was to be aggressive and to attack her back hand. Shimizu had torn through the draw and took down the 2nd, 4th, 5th and 9th seeds in straight sets.
In the finals, Shimizu ruffled Schaefer by going up 2-1 in the first set.
"I was kinda upset, but I realized it was only 2-1, I could come back," Schaefer said. "I was making a lot of unforced errors 'cause I was pretty nervous, but when I stopped thinking about it, I played better."
While Shimizu pounded her shots, Schaefer mixed up hers, moved the challenger side to side, up and down, employing acute angles and deft drop shots. She was still behind, though, trailing 2-3, until she finally ran off the next four games. At set point, she fired a flat back hand crosscourt which Shimizu pushed long.
But Schaefer knew that she hadn't won anything yet, even with the first set in hand.
"I think she was more nervous 'cause she was down," the champion said. "But we both played better in the second set. We hit harder and missed less."
In the second, Schaefer went up 2-0, but Shimizu caught up again and refused to go away, tying it at 2-all, but Schaefer ran off the next three games, conceded one more before closing out the match with a forehand winner to clinch the title.
"I felt excited, and because I train there, I was more proud," said the victor.
"Dom is playing with supreme confidence and wanted this championship badly," said Mark Weil, founder and academy director of Weil Tennis Academy, which also is one of the longtime sponsors of The Ojai. "She controlled play with her variety and creativity, and Seira was a worthy opponent ... [but] Dom just had too much game."