Clay Court Championship Week
Weather is the Real Winner at Boys 18 Clays
by Marcia Frost, 27 July 2012
Summertime rain in Florida is not unexpected, but it certainly left its mark on the USTA Boys' 18 Clay Court Championships, hosted by the City of Delray Beach and organized by Players International Management. While the weather wreaked havoc on the schedule throughout the week, no one imagined the dark shadow it would cast over the entire tournament.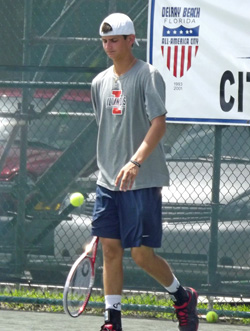 Semifinal Saturday went off without a hitch with two boys from Illinois facing off on one court while the California kids were on another. Top-seeded
Jared Hiltzik
quickly eliminated unseeded
Martin Redlicki
, 6-3,6-0, to earn his place in the final. Just a short while later, No. 16
George Goldhoff
prevailed over No. 10
Deiton Baughman
, 6-4,6-3.
The skies began to darken and the wind picked up a bit just after the presentation of the Boys' 16s trophy on Sunday. Still, Jared Hiltzik, an incoming freshman at the University of Illinois, and George Goldhoff took the court. The first game was a long one as both players brought out their best. The momentum continued and included two aces from Hiltzik in the second game alone.
It wasn't until 4-4 that Hiltzik earned a break. He held that game lead to a 6-4 set. A few drizzles fell as the players started the second set, but it wasn't until Hiltzik had a 3-1 lead that the rain came. It was hard and fast, and the entire sky was black, leading everyone to realize that this wasn't going to be a quick, passing storm.
Hiltzik, who had been a finalist at the USTA National Spring Championships after winning the title at the USTA National Winter Championships, was more than ready to make it back to the winners' circle. "I was really enjoying the match," he said. "It had a great atmosphere and there was a very high level of play present in both George and me. After I won the first set and got the early break in the second, I felt totally in control of the match. Then unfortunately the rain came."
By late afternoon, it was decided the tournament would not be finished. The USTA Boys' 18 National Clay Court Championships were left without winners in the main draw, consolation singles and finals and playoffs in the doubles. The singles third place playoff finished before the rain, with Redlicki taking the bronze with a 6-4,6-0 win over Baughman.