Tournament Summary
Robbie Bellamy Captures Southern California 18s Title
by Keith Kropp, 30 June 2012
Brilliant sunshine bathed the courts at Los Caballeros Racquet & Sports Club in Fountain Valley, Calif., for the final four days of the 110th annual Southern California Junior Sectionals, providing the perfect atmosphere for some spectacular and entertaining tennis.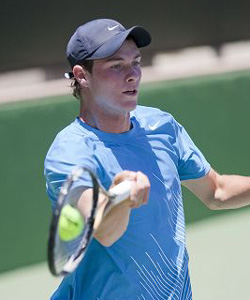 One of the most prestigious tournaments in the nation began with 1,321 players (in 12 different divisions) on June 16 and concluded with several thrilling championship matches on June 24 as many of the nation's best juniors waged some compelling battles during the seven days of competition.
Perhaps the most fierce competition took place in Boys 18 singles, where two unheralded players navigated their way through a draw loaded with blue chip and five-star recruits to eventually stage a memorable and entertaining championship match.
Robbie Bellamy of Pacific Palisades, emerged victorious, but it took a lot of hard work to register a 6-7 (1), 7-6 (8), 7-5 win over Ernesto Escobedo of West Covina. Bellamy, a No. 9 seed, wound up beating three other seeded players in his five matches - one of them No. 1 Gage Brymer of Irvine, 6-4, 6-1 in the quarterfinals.
Escobedo was attempting to do something that rarely occurs in the SoCal Junior Sectionals - win the tournament by coming through the preliminary rounds. The top eight seeds plus eight No. 9 seeds are granted spots in the final rounds (in the 12s, 14s, 16s and 18s), leaving 16 places up for grabs in the preliminaries. Escobedo won two matches and received a walkover to earn one of those sixteen qualifying spots in the 18s - and then he came within a few points of winning the tournament.
Escobedo wasn't the only player to fully grasp how tough it is to win the 18s title and join past champions - like former USC standout Steve Johnson and current Stanford star Ryan Thacher. Logan Smith of Carlsbad, a player who has won at the younger levels (10s and 12s) of SoCal Junior Sectionals, appeared to be building momentum this year until he ran into Escobedo in the semifinals on Sunday.