Special Feature
The Case for a Junior Davis Cup Team
by
Colette Lewis
, 24 August 2012
Tennis has undergone many changes in the years since Michael Chang, Andre Agassi, Jim Courier and Pete Sampras were playing junior tennis in the mid-80s.
The 1987 team featured Sampras (middle front row), Washington (second row far right), Garner (second row far left), and Courier (third row far right)
courtesy,
USTA Boys 18 and 16 Nationals
Few will shed a nostalgic tear for the short shorts and mullets in fashion back then, but one institution of that era is still spoken of in revered tones - the USTA Junior Davis Cup team.
Although variations on the concept extend back as far as the Davis Cup itself, founded in 1900, a National Team has not been part of USTA junior development for many years. The ITF now holds world Junior Davis Cup (and Junior Fed Cup) competitions every September for 16 qualifying countries in the 16-and-under age group, but here in the United States, those players are selected on an ad hoc basis for both North American qualifying in the spring and for the international competition in the fall.
Greg Patton and Brad Stine, two coaches of the USTA's Junior Davis Cup team during the mid-80s, believe the competitive advantages of that structure is reason enough to bring it back.
"The Junior Davis Cup team was incredibly successful," says Patton, the current men's head coach at Boise State, who coached at the University of California-Irvine while serving as captain of the Junior Davis Cup team during the summers of 1984-87.
"It was a carrot, with all the kids wanting to be on that team, a goal for every American kid to aspire to."
In 1987, members of the 12-man squad included Courier, Sampras, Malivai Washington, Jeff Tarango and David Wheaton. Chang was a member of the 16s team in 1986.
Stine, who coached four-time grand slam champion Courier on tour during the latter's rise to the No. 1 ranking, explains how the teams were selected.
"Sometimes there were more guys named automatically based on their results, and there were fewer spots for tryouts, but generally there were about four spots for tryouts," says Stine, who now operates the Stine 360 Tennis Academy in Fresno, Calif.
"The first year I did it was the first year they started a 16s team, 1986. We rented a fraternity house in Santa Barbara, and the tryouts were at the UC-Santa Barbara tennis courts. We had 32 18-and-under players trying out for four spots and we had 16 16-and-under players trying out for the four spots, and there were only four spots total on the 16s team."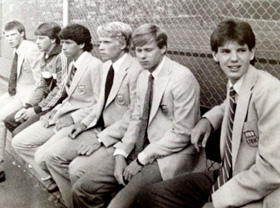 Stine, who coached college tennis at
Fresno State
before leaving to become Courier's full-time coach on the ATP tour, notes the importance of those tryouts to the players fighting for places on the team.
"Those were some of the most intense tennis matches I've ever seen in my life, because those kids knew what was at stake," says Stine. "They had the opportunity to make the national team, and all their expenses were paid for during the summer. And it was a great honor to be part of the USTA program."
With round robin groups set up, there was plenty of tennis, but it was no boot camp, according to Patton.
"We did a lot of fun things. We had a big softball tournament every year. We always went to a different college campus and just camped out. Every night we'd have some lectures, we'd go to movies, we made it fun. The kids had a great time.
"They were hungry, because they knew they could make the team, and when someone would pop out and do something, they would say, 'this could be me.'"
Chris Garner, the current men's head coach at Amherst who was on the team from 1985-87, has high praise for his years in the program.
"I don't have anything but positive memories of that time, and the opportunities it gave me," says Garner, now in his sixth year at Amherst.
"My mom had to work extremely hard for me just to play tennis, and to be able to earn that spot on that team for those few years helped financially. The help with coaching and being a part of something was definitely very rewarding for me.
"There was definitely a lot of maturing opportunities, for me specifically, that I remember. Coach Patton would pull me aside to talk to me about my behavior, or areas where I could definitely do better to represent not only myself, but the team. I definitely had to be spoken to as far as proper attire, making sure I didn't look disheveled half the time."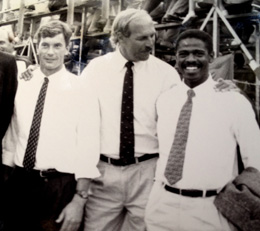 When traveling the junior tennis circuit with the team during the summers, a dress code was enforced. The players were introduced as a team at the opening ceremonies in Kalamazoo each year, sporting blazers and ties, and when they walked onto the court for their matches, their warmup jackets instantly identified them as part of the team. Team members were required to assist in the Kids Clinic held on the backcourts late in the week at Kalamazoo, a responsibility that was part of representing American tennis.
"I want to know who's on the team. I want those kids to be held up as a standard for everyone else to aspire to, to be held up as a standard for conduct, attitude and effort that is above where everyone else is at," says Stine. "I want them to wear uniforms, to be presented at Kalamazoo as our national team. I want kids to look at that and aspire to be a part of the national team."
Patton believes that alone is a powerful motivator.
"All the kids want to belong, and the whole concept was they had to earn it too," Patton says. "The boys lived up to the responsibility and lived up to the honor. You're elite, and you'd better act like it, act like a champion. You earned this."
Garner cites the social aspect as an important part of the experience too.
"I remember having a lot of laughs with the guys, which is like what you have in college," Garner recalls.
"You have that camaraderie. It's a little bit different in college because you're on that team and win as a team, while on the Junior Davis Cup, almost every tournament you were playing those guys on the team. That part was different, but there was still a lot of fun to be had with one another."
With such glowing reviews from its coaches and players, why was the program discontinued? According to Patton, that's a question Sampras, Courier and Chang have all asked him. Garner's answer, echoed by Stine and Patton, cites the frequent change in USTA leadership as a contributing factor.
"I'm not in the know to understand why it was changed," Garner admits. "I think the USTA has new leadership quite often, and with new leadership, there's going to be different ideas."
"I think it's very difficult to identify [future pros] at a young age but I think that's what they started going to - the guys who looked like they could become the best players. If you have the Top 25 guys in the country, they're going to have differentials in their talent and ability, but they're definitely Top 25, and if they're forced to keep playing each other in practice, something good will come of that. But if you take the No. 5 guy, because he looks like he'll be a prettier player than the No. 8 guy, who is a gritty guy and fights and fights, well, he's probably going to help that No. 5 guy get better."
Stine, who continued to work for the USTA after the end of the Junior Davis Cup program, agrees.
"It changed a couple of years after they started Player Development," Stine says. "There were some coaches in Player Development who wanted greater autonomy to select players based on what they felt was a game style or body style that would lend itself more to playing professional tennis. It started to be more of a 'this is the guy we're tapping, because we think he's going to make it.'"
Patton, never one to shy away from an analogy, explains its demise this way:
"There was new leadership at the USTA, and they felt we should be working with individuals. But they didn't realize we don't want to grow a rose, we want to grow a garden. You've got to put them all together and nourish them with the same fertilizer and soil. That was the point. It was a team."
Leave a Comment
More Special Features
12-Sep-2019
From Three-Star to All-American, Touliatos Thrives in College
Preston Touliatos was a three-star recruit with hardly any offers out of high school. After playing one year at Eastern Illinois, he transferred to Tennessee as a walk-on and developed into a doubles All-American for the Vols. Touliatos is now pursuing a pro career before entering med school.
19-Aug-2019
Gorzny on the Road to Recovery Following Major Health Scare
Sebastian Gorzny suffered a serious health scare during the USTA Boys 16s National Championships in Kalamazoo. The 15-year-old was hospitalized for seven days after his father found him unconcious and having seizures in his hotel room bed at 2 a.m.
9-Aug-2019
Spizzirri Brothers Reach International Heights in Tennis, Squash
Twins Eliot and Nicholas Spizzirri are both experiencing international success with racquets, only in different sports. Eliot is one of the top rising senior tennis players in the world while Nicholas is charting his own path in squash.
About Colette Lewis
Colette Lewis
has covered topflight U.S. and international junior events as a freelance journalist for over a decade. Her work has appeared in
Tennis
magazine, the
Tennis Championships
magazine and the US Open program. Lewis is active on
Twitter
, and she writes a weekly column right here at TennisRecruiting.net. She was named
Junior Tennis Champion
for 2016 by Tennis Industry Magazine.
Lewis, based out of Kalamazoo, Michigan, has seen every National Championship final played since 1977, and her work on the tournament's ustaboys.com website led her to establish ZooTennis, where she comments on junior and college tennis daily.