Commitment Profile
Blair Shankle is a 2013 Baylor Lady Bear
by
Ali Jones
, 27 August 2012
World traveler and Blue Chip recruit Blair Shankle's family ties are so tightly knit and deeply rooted in her native state that when the time came for her to choose a college, they played a huge factor, along with academics and athletics.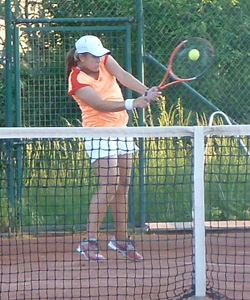 Baylor University
, two hours from where the Shankle clan lives, fit the bill to a T and received Shankle's early verbal commitment.
"There are great programs everywhere, but I felt like the programs here in Texas - UT, A&M, Baylor, Texas Tech - all of those are great choices, so I didn't really have to go out of state to find what I really wanted," the rising senior said. "I wanted to be close to home and near my family. Everybody lives in Dallas, except one brother who lives in Lubbock. We are very family oriented and enjoy our time together a lot."
Under Head Coach Joey Scrivano, Baylor finished the 2011 season ranked sixth in the nation, the fourth consecutive season it has finished in the top six. The team has made two Final Four and five Elite Eight appearances. It holds eight Big 12 titles, and in 2005 freshman Lady Bear Zuzana Zemenova made NCAA history by being the first unseeded singles champion.
Shankle, like Baylor, has been a consistently high performer. It was little surprise that coaches began contacting her as soon as NCAA rules permitted. So immense was the interest and enthusiasm in her that coaches were calling while she was still playing the European ITF circuit. Too gracious to point out the time difference, Shankle was on the phone in the wee hours of the morning.
"I didn't know what to expect," she said. "Yes, I did get a lot of offers, a lot of interested universities and that was great. But it also just made the decision so much harder. I was looking at UNC, Florida State, Illinois, and all of the Texas schools, but I thought Baylor was the right place for me."
Shankle was touched by the intensity with which Baylor courted her and the fact that it was willing to hold one of this season's scholarships for her.
"I always wanted to go somewhere where they really wanted me and who showed interest, so I thought [Baylor's effort] was great," Shankle said. "After the unofficial [visit], I went home and talked with my parents and coach and tried to figure out what was the best for me. Three or four days later, I called and committed."
Shankle, whose precocious childhood is the stuff of legend in Texas junior circles, started very early playing 12-and-under division tournaments. At age five she was spotted in a Baylor tennis cap by a sports reporter who remarked on her "serious look" on the tennis court and who correctly predicted that "there could be plenty of wins in the future for this youngster."