Player Profile
Sherry Thomas, a Mother with a Mission
by
Ali Jones
, 10 September 2012
When Danny "DJ" Thomas was a toddler, his fingers clung tightly on to the fence as he enviously watched his sisters Isis and Kyah hit tennis balls.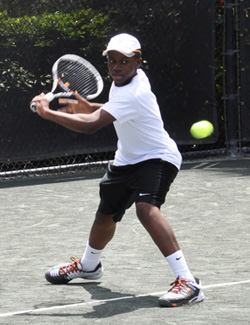 This was around 2003, when Serena and Venus Williams were at the apex of their careers, inspiring Mrs. Thomas to sign up her daughters.
"DJ's head would go side to side and he would be fascinated," Sherry Thomas recalled, "and he came to me and was like, 'Mama, I want to do that.'"
"I was like, 'No, little boys don't play tennis,'" Mrs. Thomas laughed at the memory. Her late husband played football and basketball, sports to which she thought her son would gravitate.
DJ, however, has proven to his mother that yes, little boys do play tennis, and that they can get really, really good at it.
In the three Supernationals that he's played so far, DJ has earned two gold USTA balls in doubles and a silver in singles. He is ranked in the top ten of the Class of 2018.
His skill, focus, desire and passion for the game were so evident that during a clinic in Ohio during the Western and Southern Open in Cincinnati, Brad Gilbert exclaimed, "Why isn't DJ in Boca Raton training yesterday at the USTA Center, so that in five years he could be playing in the main draw [of this tournament]?"
During his on-air match commentary, Gilbert again mentioned "12-year-old DJ from Columbus, Ohio" and how he was "going places."
"I think DJ slept with a smile on his face the whole night," said Mrs. Thomas, who herself took up tennis when her children did.
After her husband died in 2000, Mrs. Thomas found that being on the tennis court allowed her and her children to laugh again and have fun, and so, despite the sport's financial demands, she has stuck to it.