Tournament Summary
Pan American Championships Go To Rubin, Abanda
by
Colette Lewis
, 18 October 2012
Canadian success has been one of the top stories in junior tennis this year, with that theme continuing last week at the ITF B1 Pan American Closed in Tulsa, where three of the four singles finalists were from the Land of the Maple Leaf. Francoise Abanda defeated compatriot Carol Zhao in a marathon girls final 76(5), 4-6, 7-5, while 2011 Pan American finalist Noah Rubin of the US prevented a Canadian sweep by downing Hugo Di Feo 6-2, 2-6, 6-2.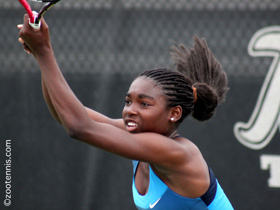 Top seed Zhao and second seed Abanda arrived at the finals in decidedly different ways. Zhao won three consecutive three-setters, coming from 4-2 down in the final set in her 6-1, 4-6, 7-5 win over No. 9 seed
Rasheeda McAdoo
in the quarterfinals, and defeating No. 3 seed
Christina Makarova
of the US 3-6, 6-1, 6-2 in a semifinal played indoors at the Michael D. Case Tennis Center due to rain.
Abanda had a much less taxing journey, receiving a second round retirement before the start of play against wild card Nicole Frenkel due to Frenkel's ankle injury, and a walkover into the final when unseeded 14-year-old Maria Shishkina, who had beaten No. 5 seed Jennifer Brady in the quarterfinals, could not play the next day due to a back injury.
The 15-year-old Abanda and 17-year-old Zhao know each other's games well, with both part of the Montreal National Training Centre's development program. They had met twice in the past four months, with Zhao defeating Abanda in the semifinals at the Grade 1 in Roehampton on grass, and Abanda taking the final at the Grade 1 Canadian Open on hard courts two months later.
It was gloomy and windy as the pair took the court for their rubber match, with heavy thunderstorms predicted. An occasional sprinkle did cause brief stoppages in both finals so that towels could be used to dry the lines, but sustained rain didn't arrive until later.
The match was even more unpredictable than the weather, however, with both Abanda and Zhao seemingly taking control, then relinquishing it.
Zhao served for the first set after a late break of Abanda, but couldn't convert and dropped the tiebreaker.
Abanda took a 3-1 lead in the second set, but couldn't hold it, losing four straight games and allowing Zhao to serve for the set. Zhao again failed to finish it, but Abanda's unforced errors in the next game allowed Zhao to level the match.
Up two breaks and 4-1 in the third set, Abanda couldn't put Zhao away. Winning the next three games with some outstanding defense and aggressive swinging volleys, Zhao seized the momentum, then lost it, losing a sloppy service game at 4-4 to give Abanda the opportunity to serve for the match.