Commitment Profile
Fall Signing Week '12: Jamie Loeb to Wear Carolina Blue
by Marcia Frost, 14 November 2012
Jamie Loeb's consistent placing in the top five of the recruiting rankings is not something anyone has ever questioned. She's been looked at as a blue chip recruit even before she was officially given that label and the University of North Carolina Tar Heels will happily welcome her onto their team next fall.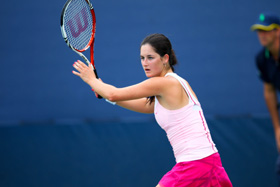 Seventeen-year-old Loeb took a path through junior tennis that you don't often see these days. She stayed close to her Ossining, NY, home most of the time playing local events. She even played high school tennis, winning the
New York State Singles Championship
in 2010. In 2011, she became the first junior to ever win all eight USTA Eastern Designated Closed Championships, earning a place in the section's history.
While Loeb's playing record sectionally had brought her to the top of those rankings for years, she made her mark nationally in 2011, despite limiting the travel to a handful of tournaments. She began the year by winning her first national event, the Girls' 16s at the USTA Winter Championships. From there she came in third at the Easter Bowl and won a National Open in May.
Loeb does not travel out of state much for coaching either. She is coached by Felix Alvarado at the John McEnroe Tennis Academy and also gets help within the family, "My brother Jason travels with me to numerous tournaments throughout the year," she says.
Jamie Loeb's success was even brighter in 2012. After sweeping the USTA National Winter Championships (this time in 18s), she won the Delray Beach ITF, the USTA International Grasscourts (where she took singles and doubles), and was a finalist at the USTA National Girls' 18 Clay Courts.
In 2012, Jamie Loeb proved she could play with the pros. She won the $10,000 Futures singles title in June at the Buffalo, NY, event, also taking the doubles crown with partner Nika Kukharchuk.
"I really do enjoy playing professional tournaments," explained Loeb. "I think in order to improve my game I need to play higher level tournaments like the $10,000 and $25,000 events. It's a great experience and these tournaments push me to play at an even higher level than I'm playing now."