Commitment Profile
Fall Signing Week '12: Luca Corinteli Chooses Wahoos
by Sonny Dearth, 15 November 2012
Special from the
Newport News (Va.) Daily Press
The University of Virginia men's tennis team's recruiting is coming up big - literally as well as figuratively.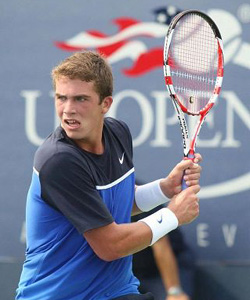 Luca Corinteli
recently became the latest Blue Chip prospect to commit to Coach Brian Boland's Cavaliers. Tennisrecruiting.net ranks him 17th in the nation and first in the Mid-Atlantic Section among the senior Class of 2013.
If Corinteli has his way, he won't be doing much retrieving or scurrying along the baseline during his time at Thomas Jefferson's University in Charlottesville.
"I'm 6-foot-4 and I weigh 210 pounds, so I like to play an aggressive game style," he said. "I don't like to play much defense. I'm big on moving forward, using my size to my advantage."
Looking at many factors, Corinteli's choice of UVa makes plenty of sense. First, he's from the state - the Washington suburb of Alexandria. Second, his recent background is closely linked with another Cavalier-to-be, Thai Kwiatkowski of Charlotte, N.C.
Both have matriculated at the USTA Training Center Headquarters in Boca Raton, Fla. Not only that, "I've lived with Thai for the last three years," he said. "We both decided for our senior years to leave the USTA Training Center and go home."
Like Kwiatkowski, Corinteli took classes online for most of high school and received extensive coaching from Andres Pedroso in Boca Raton. Pedroso now is in his third year as a UVa assistant.
Corinteli said after Pedroso went to the Cavaliers, "I didn't get to talk to him for a long time because of all the NCAA rules, but when he came for a college camp, it sparked my interest. I really liked working with him and liked his personality."
Besides, Corinteli didn't want to stay outside the Commonwealth forever.
"I was really homesick after being in Florida for so long," he said.
The only other university Corinteli seriously considered was Texas A&M, which he toured in late October.
"I went on my recruiting visit to A&M and had a great time. I really respect Coach Steve Denton and assistant Bobby McKinley," he said.
But at UVa, "Academically, I was at home, and I really connected with everything in Charlottesville."