Recruiting Feature
Fall Signing Week '12: National Boys Roundup
by Dallas Oliver, 13 November 2012
Earlier today, we heard from a number of senior girls who plan to sign NLIs during the Fall signing period, which officially begins tomorrow. We asked them about their college choices - and how they reached their decisions.
We now take a look at a number of highly-ranked boys. We asked them about their college choices - and how they reached their decisions.
Here is the lineup of seniors we talked with:
Jayson Amos (Mission Viejo, Calif.) to Oregon
Four-star senior Jayson Amos has had an excellent year. Over the past twelve months, Amos has poisted a 24-11 record against 4- and 3-star opponents, and his ranking on the Athletic DNA Class Rankings List is a career-high No. 102. Amos has competed nationally and sectionally, winning a pair of matches at the International Spring Championships in Carson - and placing in the top four of several USTA/SoCal tournaments. Next year, Amos will head north to University of Oregon, to play for Coach Nils Schyllander's Ducks squad.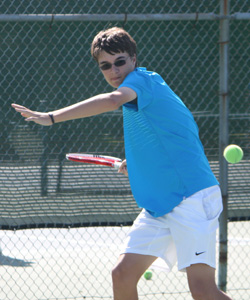 What did you most like about the University?
I liked the city of Eugene. It was small but not too small. I was impressed with the resources UO invested in the athletes - not only in the sport but also in the support of their academics. I was also impressed by the Sports Business School which ranks No. 1 in the nation.
It sounds like you visited the school. Did you take an official visit? Can you talk about it?
I did take an official visit to the campus at Oregon. We ate several meals with the coaches. At each meal a couple of the players from the team would be present. The players are from all over the world and are easy to talk with. They all were enjoying working with the coaches and were very positive about their expectations for the upcoming season.
What were the tennis facilities like?
The facilities at UO are incredible. The indoor courts as well as the outdoor courts along with the training facilities are the best.
Tell me a bit about your interactions with the Oregon coaches.
I really felt a connection with the coaches, Nils [Schyllander] and Jonas [Piibor]. They were very knowledgeable and real tennis people. The coaching style of both coaches is very positive, and they really enjoy what they are doing. Both coaches emphasized improvement. Both made me feel as though I was a key part of the tennis team's future success.
That's great. And you mentioned your interactions with your future teammates as well?
I did meet my future teammates and felt very much accepted. I felt I could easily fit in with this team and enjoy spending the next four years with them.