Who's Hot?
Prince Hot 100 List - November '12
by Amelia Thomas, 21 November 2012
With the Fall Signing Period in the rearview mirror, TennisRecruiting.net is back to its regular content. What better way to get back in the swing of things than with a new edition of the Prince Hot 100.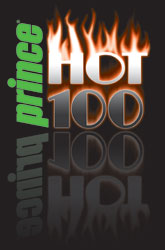 The Prince Hot 100 lists are published each month, and the November Hot 100 lists feature the one hundred boys and girls who most improved their ranking during the month of October. You can find out more about the Prince Hot 100 - and how the lists are calculated - by reading here.
The latest lists, published earlier this week, are now available:
We checked in with a few of these top performers...
Roundup
Michael Quang (Forest Hill, Md.)
Four-star sophomore Michael Quang had a strong start to his tennis career. He started tennis at four years old and competed in his first USTA tournament at age seven. By age eight, he was ranked No. 1 in the Mid Atlantic Section Boys 10.
Quang's skill was evident from the beginning. "He demonstrated his hand-eye coordination when he first hit the tennis ball with a tennis racquet," Quang's parents, Binh and Myhanh Quang, said.
Michael Quang says his game is defined by his strengths. "My game is very much a baseline game, but I like to categorize it as an aggressive baseline game" Quang said. "I hit the ball hard and move my opponent around and then finish it."
His parents agree, highlighting his footwork and mental strategy. "Explosive footwork and the ability to anticipate his opponent's incoming shot really separate him from other tennis players," they said.
Quang has felt the rewards of his hard work the past few months. "I thought that I was playing well lately - especially during the Zonals in Winston Salem and the USTA Regional tournament in Norcross, Ga.," Quang said. In the Zonals, Quang won all five of his single matches and four out of five of his doubles matches. "I thought that I was more motivated and determined to play at a national level. Watching players from different regions and seeing how they compete against other teams has inspired me a great deal."
He had many wins to choose from, but Quang elected a match at the USTA Regional Tournament in Norcross as his best win of October. After losing to five-star sophomore Jayanth Chintham in the round of 16, Quang knew he needed to make some adjustments. "Although the conditions were tough, I played a lot better after that match," he said.
His best win came when he defeated five-star junior Zigi Wang in a consolation match. "I never doubted that I could win the match when I came back to take the second set, 6-1, after a loss of 4-6 in the first set," Quang said. He defeated Wang with a score of 10-8 in the tiebreaker.
When considering the future of his game, Quang knows that athletic skill is not the only influential factor. He understands the importance of academic success, and he has been an honor roll student since he was in the sixth grade. "I like to do well in school so that I will have a chance to play for an Ivy League D-I tennis college," Quang said.