News & Features
Event Schedule
National Showcase Tournament Series
TennisRecruiting.net is excited to work in conjunction with adidas adiplayer on a series of tournaments called National Showcases presented by adiplayer. These tournaments are USTA-sanctioned junior tournaments open to players from all sections. National Showcase tournaments are designed to give a broad range of players the chance to compete outside of their districts and sections - and these tournaments will count towards Tennis Recruiting rankings.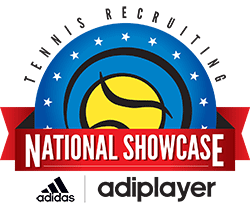 National Showcase tournaments are "open" tournaments. Entries for these tournaments will be open to all USTA players, regardless of residence.
All events in National Showcase tournaments will count in Tennis Recruiting rankings. Note that these tournaments are not on the USTA national schedule - they are sanctioned by sections or districts. Further, players who compete in these tournaments and win at least one singles match will become National Players for the purpose of determining event quality for other tournaments.
Tennis Recruiting has sought out well-respected tournament directors with a history of running strong, high-quality tournaments. These directors are interested in running open tournaments to meet a need in light of recent changes to the junior competition format. The goal of these National Showcase tournaments is to provide additional opportunities for players to compete in other parts of the country.
adidas adiplayer and Tennis Recruiting are excited to bring juniors more opportunities for tennis tournament play.
National Showcase Series Schedule
Here is the current schedule of National Showcase Tournaments. Additional tournaments are added to the schedule as their USTA sanctions are finalized.
Starts
Tournament
Events
Contact
11/13
LEVEL 5 OPEN - TC OF ALBUQUERQUE OPEN
Albuquerque, NM
BG18-12
E. Briganti
11/19
LEVEL 5 OPEN - WESTERN STATES OPEN
Tucson, AZ
BG18-12
R. Smith
12/04
LEVEL 5 OPEN - SW MASTERS
Santa Fe, NM
BG41-12
N. Fintell
12/04
LEVEL 5 OPEN - SW MASTERS
Albuquerque, NM
BG18-16
N. Fintell
12/18
LEVEL 5 OPEN - SUN BOWL
El Paso, TX
BG18-12
E. Phinney
12/27
LEVEL 6 HARRISON CHILI BOWL
Marietta, GA
BG18-12
W. Miller
We hope that you will consider playing in one of these tournaments. Lastly, here are some principles of these National Showcase tournaments:
All events in a National Showcase tournaments will count for Tennis Recruiting national rankings.
A player who competes in one of these events and has a win - in the main draw or a consolation event - will become a Tennis Recruiting National Player.
Entry into these events is open to all USTA players, regardless of residence.
Acceptance will start with the USTA National Rankings - followed by the USTA sectional and district rankings.
We have had a lot of positive feedback about these tournaments since we announced them in 2012 - and we look forward to many more such tournaments in the future.
For more information, check out our Frequently Asked Questions.
About adidas adiplayer
adidas adiplayer is proud to work in conjunction with Tennis Recruiting as the presenting sponsor of the National Showcase Tournament Series.
Make athletes better. It's what we do.

Are you ready to take your game to the next level by using the most innovative products in the market? We want the best of the best to join the adidas adiplayer team and get access to premier product and exceptional prices, exclusive offers and exciting new releases.
Connect with adidas adiplayer on YouTube - or on their website.
Leave a Comment
More Special Features
29-Sep-2021
No Question: Juniors at US Open Endorse Electronic Line Calls
The computer-based Live Electronic Line Calling system was implemented this year at the US Open Junior Championships. Line umpires are no longer used and the chair umpire doesn't rule on line calls. The players largely expressed approval with the changes.
13-Sep-2021
Ivy Wilson Doesn't Let Diabetes Hold Her Back
Ivy Wilson, a 16-year-old diabetic, was recently honored with the Novo Nordisk Donnelly Scholarship. Along with $10,000, the Oklahoma native traveled to the U.S. Open in New York to meet Billie Jean King and receive her award.
28-Jun-2021
Eubanks Packs When Opportunity Knocks
Fresh off winning his first Challenger in three years, former Georgia Tech All-American Chris Eubanks is keeping his travel schedule open to take advantage of opportunities to climb the rankings. He recently competed in the qualifying draw at Wimbledon.