News & Features
Event Schedule
National Showcase Tournament Series
TennisRecruiting.net is excited to work in conjunction with adidas adiplayer on a series of tournaments called National Showcases presented by adiplayer. These tournaments are USTA-sanctioned junior tournaments open to players from all sections. National Showcase tournaments are designed to give a broad range of players the chance to compete outside of their districts and sections - and these tournaments will count towards Tennis Recruiting rankings.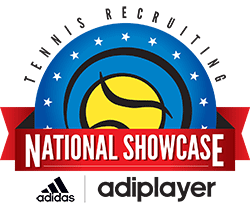 National Showcase tournaments are "open" tournaments. Entries for these tournaments will be open to all USTA players, regardless of residence. The bulk of these tournaments take place during the summer or on long holiday weekends to accommodate travel.
All events in National Showcase tournaments will count in Tennis Recruiting rankings. Note that these tournaments are not on the USTA national schedule - they are sanctioned by sections or districts, and so players competing from other sections will not earn USTA ranking points. But they will absolutely count at TennisRecruiting.net. Further, players who compete in these tournaments and win at least one singles match will become National Players for the purpose of determining event quality for other tournaments.
Tennis Recruiting has sought out well-respected tournament directors with a history of running strong, high-quality tournaments. These directors are interested in running open tournaments to meet a need in light of recent changes to the junior competition format. The goal of these National Showcase tournaments is to provide additional opportunities for players to compete in other parts of the country.
adidas adiplayer and Tennis Recruiting are excited to bring juniors more opportunities for tennis tournament play.
National Showcase Series Schedule
Here is the current schedule of National Showcase Tournaments. Additional tournaments are added to the schedule as their USTA sanctions are finalized.
Starts
Tournament
Events
Contact
6/22
REIS TC NATIONAL SHOWCASE
Ithaca, NY
BG18-12
A. Falkson
6/29
GCC GRIZZLIES TRN CLASSIC
Lawrenceville, GA
BG18-12
C. Hodges
7/02
WILBUR FOLSOM MEMORIAL
San Diego, CA
BG18-12
N. Karnopp
7/09
24TH COSTA MESA SUMMER CLASSIC
Costa Mesa, CA
BG18-12
H. Lloyd
7/12
MENDHAM TRN NATIONAL SHOWCASE
Basking Ridge, NJ
BG18-12
L. Dwojewski
7/14
NEWPORT NEWS OPEN
Newport News, VA
BG18-12
D. Weiner
7/14
GEORGIA STATE JUNIOR OPEN
Rome, GA
BG18-12
R. Sasseville
7/21
DTS COLLEGE RECRUITING TOURNEY
Milton, MA
BG18
T. Donovan
7/27
HUDLOW JUNIOR OPEN
Norcross, GA
BG18-14
C. Chapin
9/07
GREENSBORO SEPTEMBER OPEN
Greensboro, NC
BG18-14
M. Falcon
9/07
VDM ACADEMY JR. CLASSIC
Hilton Head Island, SC
BG18-12
R. Sanderson
9/14
ATA COLLEGE PREP FALL OPEN
Austin, TX
BG18-12
B. Notis
9/14
SC JUNIOR STATE OPEN
Charleston, SC
BG18-12
J. Barth
9/21
FALL BLOOMINGTON DUEL IN THE DESERT
St. George, UT
BG18-12
C. Hancock
10/12
GREENSBORO OCTOBER OPEN
Greensboro, NC
BG18-14
M. Falcon
11/03
FAYETTEVILLE ROTARY JR. OPEN
Fayetteville, NC
BG18-12
F. Barragan
11/17
BROWARD TURKEY BOWL SHOWCASE
Coral Springs, FL
BG18-16
L. Wolfe
11/17
GEORGIA THANKSGIVING OPEN
Norcross, GA
BG18-16
C. Chapin
11/17
ATLANTA THANKSGIVING OPEN
Peachtree Corners, GA
BG14-12
T. Berne
11/24
WESTERN STATES JR. OPEN
Tucson, AZ
BG18-14
M. Houk
12/26
COSTA MESA CLASSIC
Costa Mesa, CA
BG18
H. Lloyd
12/28
DELRAY HOLIDAY CHAMPIONSHIPS
Delray Beach, FL
BG18-12
L. Wolfe
We hope that you will consider playing in one of these tournaments. Lastly, here are some principles of these National Showcase tournaments:
All events in a National Showcase tournaments will count for Tennis Recruiting national rankings.
A player who competes in one of these events and has a win - in the main draw or a consolation event - will become a Tennis Recruiting National Player.
Entry into these events is open to all USTA players, regardless of residence.
Acceptance will start with the USTA National Rankings - followed by the USTA sectional and district rankings.
We have had a lot of positive feedback about these tournaments since we announced them in 2012 - and we look forward to many more such tournaments in the future.
For more information, check out our Frequently Asked Questions.
About adidas adiplayer
adidas adiplayer is proud to work in conjunction with Tennis Recruiting as the presenting sponsor of the National Showcase Tournament Series.
Make athletes better. It's what we do.

Are you ready to take your game to the next level by using the most innovative products in the market? We want the best of the best to join the adidas adiplayer team and get access to premier product and exceptional prices, exclusive offers and exciting new releases.
Connect with adidas adiplayer on YouTube - or on their website.
Leave a Comment
More Special Features
18-May-2018
From USTA to UTR: Amritraj's Focus Broadens
Stephen Amritraj recently left his position as the USTA's Director of Collegiate Tennis to become the Chief Tennis Officer for the Universal Tennis Rating system. The Duke graduate is convinced UTR can have a big impact on the global tennis community. He discussed his new role in a Q&A with Colette Lewis.
10-May-2018
Yonex Raises U.S. Tennis Profile
Yonex has made a push to identify and sponsor promising young Americans to get more represenation in the United States tennis market. North American representative Jacek Dabrowski is the man helping put Yonex rackets in the hands of players at prestigious junior tournaments across the country.
27-Apr-2018
Lets Go: ITF Junior Circuit Adopts No Lets on Serves
The ITF has moved to allow service lets to be played during events on the Junior Circuit. During the major Southern California junior tournaments this month, Colette Lewis spoke with competitors, officials and a college coach about the change and its impact.