News & Features
Event Schedule
National Showcase Tournament Series
TennisRecruiting.net is excited to work in conjunction with adidas adiplayer on a series of tournaments called National Showcases presented by adiplayer. These tournaments are USTA-sanctioned junior tournaments open to players from all sections. National Showcase tournaments are designed to give a broad range of players the chance to compete outside of their districts and sections - and these tournaments will count towards Tennis Recruiting rankings.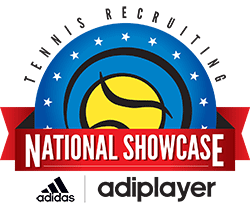 National Showcase tournaments are "open" tournaments. Entries for these tournaments will be open to all USTA players, regardless of residence. The bulk of these tournaments take place during the summer or on long holiday weekends to accommodate travel.
All events in National Showcase tournaments will count in Tennis Recruiting rankings. Note that these tournaments are not on the USTA national schedule - they are sanctioned by sections or districts, and so players competing from other sections will not earn USTA ranking points. But they will absolutely count at TennisRecruiting.net. Further, players who compete in these tournaments and win at least one singles match will become National Players for the purpose of determining event quality for other tournaments.
Tennis Recruiting has sought out well-respected tournament directors with a history of running strong, high-quality tournaments. These directors are interested in running open tournaments to meet a need in light of recent changes to the junior competition format. The goal of these National Showcase tournaments is to provide additional opportunities for players to compete in other parts of the country.
adidas adiplayer and Tennis Recruiting are excited to bring juniors more opportunities for tennis tournament play.
National Showcase Series Schedule
Here is the current schedule of National Showcase Tournaments. Additional tournaments are added to the schedule as their USTA sanctions are finalized.
Starts
Tournament
Events
Contact
3/23
AL/GA OPEN CHMPS
Dothan, AL
BG18-12
H. Casey
3/30
DAYTONA EASTER OPEN
Daytona Beach, FL
BG18-12
J. Hudson
4/25
119TH OJAI JR. TENNIS TOURNAMENT
Ojai, CA
BG18-14
C. Fugle
6/07
TRN OPEN AT BASELINE TC
Minneapolis, MN
BG18-12
M. Hammer
6/26
DTS COLLEGE PROSPECTS SHOWCASE
W. Windsor, NJ
BG18
T. Donovan
7/13
GA STATE JR. OPEN
Rome, GA
BG18-12
R. Sasseville
7/20
DTS COLLEGE RECRUITING TOURN.
Boston, MA
BG18
T. Donovan
9/13
SC STATE OPEN CHMPS
Charleston, SC
BG18-12
J. Barth
9/27
VDM ACADEMY JR. CLASSIC
Hilton Head Island, SC
BG18-12
R. Sanderson
11/22
ONE LOVE TENNIS THANKSGIVING JR
Norcross, GA
BG18-12
T. Berne
We hope that you will consider playing in one of these tournaments. Lastly, here are some principles of these National Showcase tournaments:
All events in a National Showcase tournaments will count for Tennis Recruiting national rankings.
A player who competes in one of these events and has a win - in the main draw or a consolation event - will become a Tennis Recruiting National Player.
Entry into these events is open to all USTA players, regardless of residence.
Acceptance will start with the USTA National Rankings - followed by the USTA sectional and district rankings.
We have had a lot of positive feedback about these tournaments since we announced them in 2012 - and we look forward to many more such tournaments in the future.
For more information, check out our Frequently Asked Questions.
About adidas adiplayer
adidas adiplayer is proud to work in conjunction with Tennis Recruiting as the presenting sponsor of the National Showcase Tournament Series.
Make athletes better. It's what we do.

Are you ready to take your game to the next level by using the most innovative products in the market? We want the best of the best to join the adidas adiplayer team and get access to premier product and exceptional prices, exclusive offers and exciting new releases.
Connect with adidas adiplayer on YouTube - or on their website.
Leave a Comment
More Special Features
4-Jan-2019
USTA Debuts New Wild Card Linkage System for Americans
In response to the new ITF World Tennis Tour, the USTA has created an expanded wild card linkage system to help provide American players with opportunities to participate in professional events. Juniors and college players can earn merit-based wild cards at several major events in 2019.
28-Dec-2018
Q&A with USTA's New Head of Men's Tennis Kent Kinnear
Kent Kinnear, the USTA's new Head of Men's Tennis, sat down with Colette Lewis at the Orange Bowl to discuss his new role, his future goals for player development and his thoughts on the new ITF World Tennis Tour.
17-Dec-2018
Going the Distance to be Seen by College Coaches
Jasmine Caballero traveled from Phoenix, Arizona to Naples, Florida to participate in the Tennis Recruiting Network Showcase held in conjunction with the ITA Coaches Convention. The three-star junior stayed for only a day, but got exposure and experience.