News & Features
Player Advice
Quality Provides Quantity
by Paul Thomson, Drake Women's Tennis, 25 February 2013
Just as success leads to success and junk promotes junk... quality provides for quantity.
Over the years, I have had the privilege and fortune to become close friends with some of the greats in college tennis. More importantly, I have had the opportunity to study under and learn from them. Two of these individuals are Chuck Kriese and Paul Wardlaw.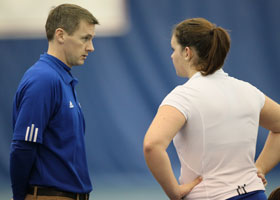 Coach Thomson with his
Drake
Team
courtesy, Drake Athletics
In a recent conversation with Coach Wardlaw, he had the following to say about his
directional system
.
"Directionals originated from Kriese's idea about not changing direction from his Total Tennis Training camps and programs. I was serving and volleying, and my natural tendency was to change direction on volleys not crossing my body. Kriese's rule was no change of direction. I couldn't figure out why not changing direction was beneficial in that situation given how my body wanted to rotate. I then took this 'Aha' moment to the baseline, and it all made sense. My favorite backhand was the inside ball that I could turn on. I had a good ball striker on our 1992 women's team who couldn't move. I taught her directionals and she was a force - she became an All-American her senior year as our No. 2 player. The 1994 team was my first team to really have to use directionals, and that became the team's tactical base moving forward."
Wardlaw's directional tennis system is simple. It teaches and stresses simplicity. Its design is to limit unforced errors and decision making. The important thing to remember in this system is that a player is not hitting balls to his opponent or even to a target. He is hitting at targets and through opponents.
This Article Is Available Only to Recruiting Advantage members
Please log in to access premium TennisRecruiting.net content.
| | | |
| --- | --- | --- |
| LOG IN | | NOT REGISTERED? |