Commitment Profile
Doyle Commits to Cardinal
by
Colette Lewis
, 11 January 2013
Sixteen-year-old Caroline Doyle was born and raised in San Francisco, so it's no surprise Stanford University was at the top of her list when she began considering college tennis programs. She had visited the Palo Alto campus many times while attending her cousin's volleyball games, struck each time by its pastoral beauty.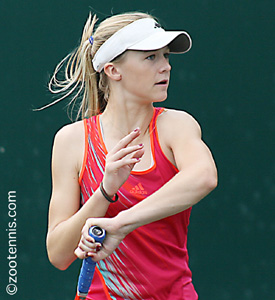 So when she learned she had enough credits to finish high school a year early, Doyle didn't hesitate, accepting a scholarship to join the Cardinal in the fall of 2013.
"I'm really excited to go a year early," says Doyle, who also attended Stanford tennis matches when visiting the campus. "I just loved the school, the team, the coaches. I loved the energy and the crowd, the players cheering each other on. I think going early will really help develop my game in that atmosphere."
Doyle started high school at St. Ignatius in San Francisco, playing on the tennis team there, before accepting an offer to train full time at the USTA's National Center in Boca Raton. She continued her academic studies online due to her increased tournament travel, a dual approach that worked well for her.
"I think [St. Ignatius] gave me a really good academic base that I could build upon in online school," says Doyle. "In a couple of classes, I was already a year ahead, so that was really helpful. I just took a couple of extra classes this year. Online school is obviously different than traditional school - you don't have as many rigorous deadlines, so you really have to stay on top of it."
Doyle hasn't decided on a major, saying she enjoys math, science and English. But combining business and science intrigues her, as does the opportunity to play tennis professionally.
"I do want to go pro, but I think Stanford will give me a great foundation," says Doyle, an athletic left-hander who isn't afraid to try a tweener in competition. "It's a place where I'll really develop my whole game. I think it's really important for players to push you. The good thing about training with the USTA was you were always with the top girls. Girls and guys obviously hit differently, so I think practices at Stanford will be really helpful - training with the best girls who are super motivated and want to help each other."