by TennisRecruiting.net, 11 February 2013
Brandon Feusner has been the tournament director of the DecoTurf High School Tennis Team Championships for nearly a decade. Over that time, the event has grown to be one of the nation's top high school tennis tournaments. The seventh annual event will begin on March 15th in Louisville, Kentucky.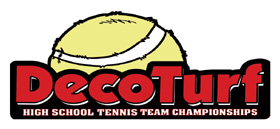 In this Q&A, we talk with Feusner about what goes into hosting the tournament - and he shares some of the challenges and best memories.
Questions and Answers
Tennis Recruiting (TR): What is your role with the tournament, and how long have you been involved with tennis?
Brandon Feusner (BF): I am the tournament director and founder of the event. I came up with the idea in 2007 during my first season as a high school tennis coach as a way to add some great competition to the schedule. I have been involved in tennis since 2004 when I began playing and fell in love with the sport.
TR: How has the tournament grown over the past six years?
BF: The first tournament in 2007 featured only ten teams and was an individual singles and doubles tournament. Following the initial tournament I decided to change the event into a dual-match tournament and it has flourished. Beginning in 2010 we had to add a B Division to accommodate the growing number of participants, and we have hosted as many as 54 teams in a single season.
In 2011 we switched to a college dual-match format to increase play opportunities for participating teams. That certainly changed our ability to schedule matches, but it has really brought the tournament to where it is today. In 2013 we will host nearly 40 teams.
TR: How are teams selected to participate in the tournament?
BF: Each spring following the state tournaments throughout the country I compile a list of teams to invite. The list begins with defending state championships and state finalists. I will initially send out nearly 400 email invitations to the event. We also encourage teams to apply for the event via the form on our website. Once our initial invitations have been sent we then send additional invitations to past participants and state semi-finalists based on the need for additional participants.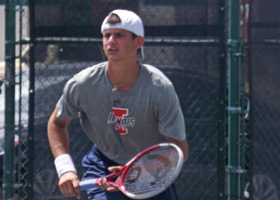 2012 Tourney MVP and
Illinois
freshman Jared Hiltzik
© Marcia Frost
The biggest thing we rely on in getting new participants each year is the coaches spreading the word about the event to other coaches throughout their state.
TR: What is it like getting ready to host the tournament?
BF: It is always an adventure. First I send out over 400 invitations each summer/fall to invite teams to the event. Then securing participating teams and planing a schedule can be somewhat hectic. Having to consider rules from as many as 13 different states when scheduling the event can be a nightmare, but it's one of the things that makes this tournament unique as a high school event. I am constantly researching tournaments across the country to see what I can do to make the tournament bigger and better than the previous year.
TR: How about once it starts?
BF: Once the tournament begins it really runs smoothly, so my focus shifts more to the weather. This is an outdoor event, and I've seen everything is the past six years. The first year I hosted the event we had to stop play on Friday night because of snow. Since then I've seen everything from 80-degree temperatures and tornadoes to 20-degree temperatures and more snow.
The coaches, volunteers and officials at the event are fantastic and really help things stay organized and moving along.
TR: What are the biggest challenges you've faced since you started doing this?
BF: As I said, our biggest challenge is always the weather. It has also become challenging to find participating teams in the last couple of years because of the expenses associated with attending the event. I have seen teams begin fund raising efforts in August to pay for their trip in March.
TR: Do you feel comfortable now that you've done this so many times, or do you still get anxious?
BF: I wouldn't say that I ever feel comfortable until the event is over but I wouldn't say that I am anxious. I am just always looking for way to make the tournament better and avoid any potential issues. In the days leading up to the tournament I am always very excited to see what another year is going to bring and to experience the great tennis.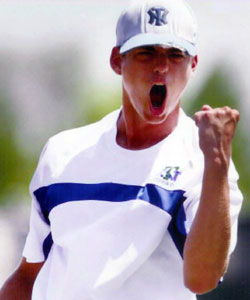 2011 Tournament MVP and
Stanford
sophomore Robert Stineman
TR: Has the tournament been in Louisville since it was founded? Have you ever considered moving the tournament anywhere else?
BF: The tournament has been in Louisville for all six years. I have considered moving the tournament around to different sites around the country a number of times, but I am limited by some of the NFHS sanctioning rules. The city of Louisville has been a great home for the tournament, and is a perfect fit being centrally located among most of the participating teams. We have some outstanding facilities throughout the city and great supporters. It is an honor to bring all these great student-athletes to Louisville to experience all that the city has to offer. There is a reason they call Louisville "Possibility City".
TR: What is your best memory from the tournament?
BF: I have so many great memories from the tournament. We have had some outstanding players participate in the event and go on to do great things at the collegiate level. We have also had teams participate that many coaches would agree were the best high school teams in the country.
But my best memories though are seeing the smiles on the players' faces during and after the event - and receiving the thanks from the coaches. Many of the participating coaches have told me that this tournament was key to their success later in the season.
TR: What is your biggest need?
BF: One of our biggest needs each year in running the event is having volunteers to help us run our sites. We cannot host this event without the wonderful support of volunteers. If anyone is interested in volunteering for the event please contact me at [email protected].
About 2XU
2XU is proud to sponsor Junior Tennis Articles at TennisRecruiting.net.
2XU: Human Performance. Multiplied.

Incorporated in January 2005, 2XU is driven by a relentless company mission to advance human performance through the development of world-leading athletic garments.
Designed and tested in consultation with leading industry experts and sporting institutes, all 2XU garments employ intelligent physiological design, cutting edge performance fabrics and construction.
From the elite athlete driving their body to its limits, to the weekend warrior out to achieve personal goals, 2XU provides the equipment required to take the human form to the best it can be.
Connect with 2XU on Facebook, Twitter, YouTube, and Instagram - or on their website.
Leave a Comment
More Tournament Features
2-Nov-2017
Vitale Thinks Tennis is 'Awesome Baby!'
Dick Vitale is known for his love of college basketball. But his passion for tennis runs nearly as deep. Vitale's daughters played at Notre Dame and grandchildren are rising junior stars. He's hosting his annual college clay court tournament this week in Florida that helps raise money for pediatric cancer.
19-Oct-2017
Top Seeds Osuigwe, Fenty Win Pan Am Closed
Top-seeded Americans Whitney Osuigwe and Andrew Fenty accomplished important goals by winning singles titles at the International Tennis Federation Grade B1 Pan American Closed at the University of Tulsa.
18-Sep-2017
OSU's Di Lorenzo, Stanford's Fawcett Claim ACI Titles
Ohio State's Francesca Di Lorenzo and Stanford's Tom Fawcett won the titles at the American Collegiate Invitational, an event for top-ranked Division I players from the United States that is now an established part of the final weekend at the U.S. Open