Commitment Profile
Spring Signing Week '13: Dave Bacalla to Valpo
by Marcia Frost, 19 April 2013
Illinois native Dave Bacalla won't be going far when he starts college next fall. He has decided to stay in the Midwest and play for the Valparaiso Crusaders in Indiana.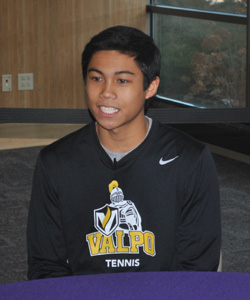 The
Athletic DNA rankings
put the Skokie teen in the top 100 nationally and No. 3 in the state. He has made his name there after starting tennis at age five and competing in tournaments by age seven. He has also made quite an impression on high school tennis, where he's played in the top spot at
Niles North
. He was the first player on that team in six years to make it into the state championships.
There likely won't be any high school tennis this year, says Bacalla, "Unfortunately, I am injured, and high school tennis is still in question for this year.
"My knee has been bothering me since the beginning of the year," he explains, "and I just decided to take care of the injury ASAP. I just wanted to get it in tip-top shape for the summer and college. The return date is still undetermined but should be coming up soon."
Bacalla, who is currently being coached by Aaron Rusnak from the College Park Athletic Club in Deerfield, Illinois, played his last event at the USTA Midwest Boys' 18 Designated Series, where he withdrew from with the injury after losing in the quarterfinals.
In the junior ranks, Dave Bacalla has picked up three USTA National Boys' 18 Regional Doubles Championships, an event he's excelled in. In 2011, he took home third place at a USTA National Open and then made it to the quarterfinals at the USTA Nationals.
In what Valparaiso Head Coach James Dougherty calls "one of the best recruiting classes we've had in my 27 years of coaching," Bacalla will join Kyle Dunn and Jeffrey Schorsch this coming fall.