Commitment Profile
Spring Signing Week '13: Connor Kudrick to Wingate
by Sonny Dearth, 20 April 2013
Special from the
Newport News (Va.) Daily Press, HRVarsity.com
Connor Kudrick will attend college halfway across the country in large part because it reminds him of what he loves about home.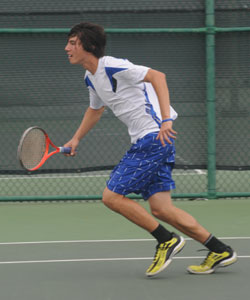 Kudrick, a 3-Star recruit from the Houston suburb of Spring, Texas, has signed with
Wingate University
in North Carolina, a rising NCAA Division II program.
"It was the first school I actually visited officially, and it was a smaller school, which I like," he says. "The place was so hands-on, and it was so friendly."
Saying he likes the "city life" of Houston, Kudrick likes how Wingate has a picturesque campus but is just a 30-minute trip from Charlotte.
"It's a beautiful part of the country, just driving around," he says.
Kudrick says he has climbed to as high a ranking as No. 11 in Texas, which came during his 14-and-under days. He's now 18th among Texas' senior class and 210th nationally, according to the Tennis Recruiting Network. Among his notable accomplishments were a 16-and-under doubles championship and consolation singles runner-up finish in 2011 at the Mount Rushmore Regional tournament in Rapid City, S.D.
"I don't really play nationals," Kudrick says. Instead, he focuses more on starring for the Klein High School team, improving his skills and teaching youngsters about the game he cherishes.
"We've won districts and regionals and I've been to the state (high school) tournament all four years," Kudrick says. "I'm used to a high school that's extremely serious about tennis but where we love to do a lot of things together.
"I was afraid when I went to college, that would go away."
When he visited Wingate and experienced Coach Michael Cabana's program first-hand, those fears vanished.
"It's like that moment when you just know what's right. It really reminded me of my own high school, where you go hang out afterward," he says. "The girls and guys (on the tennis teams) interacted together and were very friendly. The team just felt like family.