Recruiting Feature
2014 Top NCAA Division III Men's Classes
by TennisRecruiting.net, 16 June 2014
We wrap up our final week of recruiting class rankings with a look at the top classes from NCAA Division III. Today we put out our fifth annual rankings of the men's programs. On Friday, we will wrap things up with a look at the top women's classes.
Top 25 NCAA D-III Men's Recruiting Classes (through May 30)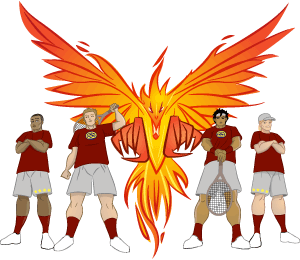 TennisRecruiting.net is excited to present the Top 25 NCAA Division III Men's Recruiting Classes for 2014. This list is based on commitments reported on or before May 30, 2014.
We enlisted the help of a number of NCAA Division III enthusiasts, coaches, and insiders to aid in the rankings. While we do not publish a list of our helpers, we appreciate their assistance.
And now, without further delay, the Top 25...
Also Receiving Consideration
A team of Division III college coaches reviewed the resumes of 50 top D-III recruiting classes to come up with these rankings. Other recruiting classes put forward by the insiders that almost made our list are (alphabetically) as follows: Coe College, Hobart & William Smith, Lewis & Clark, Mary Washington, Methodist, MIT, Oberlin, Ohio Wesleyan, RPI, Trinity (TX), UW-Whitewater, and Wittenberg.
Maroon Tennis
The University of Chicago competes in the challenging University Athletic Association - which is packed with Division III stalwarts like Carnegie Mellon, Case Western, Emory, and Wash U. The 2014 season marked the third straight year that Chicago finished fifth at the UAA Championships. But with strong recent recruiting, the Maroons may challenge for more in the coming years.
Head coach Jay Tee is starting his third season at the helm at Chicago. After bringing in a Top-10 recruiting class in 2013, Tee has snagged the No. 1 recruiting class in Division III tennis. His five-man class consists of four 4-Star recruits and one 3 Star from five different states. Nicolas Chua (Calif.), David Liu (Neb.), Peter Leung (Texas), Luke Tsai (Ohio), and Michael Selin (N.Y.) are a group that have six high school championships and fourteen wins in the last summer's Clay and Hard Court Nationals between them.
Tee is excited about the prospects for the future at Chicago.
"The one thing all of the players have in common, aside from being tremendously talented, is their passion for the sport and for the University of Chicago," said Tee in a school release. "We expect these student-athletes will make an immediate impact on the program."
High Five
While Chicago was comfortably in the top spot, the next positions in the rankings were more hotly contested. Vying for No. 2 were the Wesleyan Cardinals and Washington Bears.
Wesleyan (CT) took the No. 2 spot with 4-Star recruits Steven Chen, Winn Smith, and Dhruv Yadav to go with 3-Star Cameron Daniels. With no seniors on the 2013-14 roster, the Cardinals should be loaded for next season.
Washington University's five-man class of
John Wu
,
Shaun Berman
,
Jason Haugen
,
Jake Klein
, and
Jake Wohl
are the No. 3 class in our rankings. Rounding out the Top 5 are the
Bowdoin
(No. 4) and
Carnegie Mellon
(5).
Conference Call
As usual, two conferences dominate the top of these rankings: the New England Small College Athletic Conference and University Athletic Association. Those two conferences have 19 programs between them, but they have fielded twelve of the Top 25 recruiting classes, including ten of the Top 11 and all of the Top 9.
The UAA is headlined by Chicago and their top-rated class, and they are joined by Washington (No. 3), Carnegie Mellon (5), Emory (7), and Case Western (11).
The larger NESCAC features five Top-10 classes: Wesleyan (No. 2), Bowdoin (4), Middlebury (6), Tufts (8), and Williams (9). They are joined in the rankings by Trinity (14) and Bates (15).
Two conferences have more than two classes in the rankings: the Centennial Conference and SCIAC feature three ranked programs apiece.
Welcome Aboard, Welcome Back
Three programs are making their first-ever appearance in the D-III recruiting class rankings: UC Santa Cruz (No. 16), Gustavus Adolphus (20), and Christopher Newport (22). Conversely, seven programs have perfect attendance records - with ranked recruiting classes every year since we started these rankings in 2010: Chicago (No. 1), Washington (3), Emory (7), Case Western (11), and Johns Hopkins (13).
Coming Friday... the Women
On Friday, we conclude our look at 2014 recruiting classes with our Division III women's lists.
Leave a Comment
More Recruiting Class Rankings
29-May-2023
Top Men's Classes - 2023 Rankings
Today we release our spring rankings of the Top 25 Men's Recruiting Classes. Recent commitments have moved a number of programs up the list - including five previously unranked classes. But a familiar face is hunkering down at the top of the list.
6-Feb-2023
Top Women's Classes - 2023 Winter Rankings
The size of our commitment list is pushing 500 for the senior girls. With that in mind, today is a great time to check in on how schools are doing on the recruiting trail. Today, the Tennis Recruiting Network is proud to announce the Top 25 Women's Recruiting Classes for 2023.
30-Jan-2023
Top Men's Classes - 2023 Winter Rankings
As January comes to a close and the spring semester gets into full swing, today is a great time to take a look at the top college tennis recruiting classes. TRN is excited to present its 2023 Men's Recruiting Class Rankings - including the Top Dawgs ...