Clay Court Championship Week
Branstine Battles Foes and Weather in Girls' 12s
by Rick Limpert, 23 July 2013
The old cliché says that patience is a virtue, but in tennis, patience is a necessity. It's also a lesson junior tennis player and new USTA Girls' 12 Clay Courts champ Carson Branstine learned from her late coach.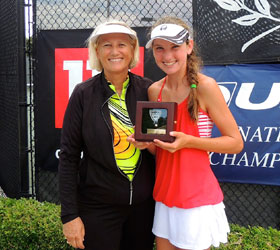 Girls 12s champion
Carson Branstine
with director Jean Mills
courtesy, Girls 12 Nationals
All the competitors at the USTA National Clay Court Championships in the Girls' 12 division learned that the hard way this week as weather delays played havoc with the schedule right up through the finals.
After a series of lightning delays, play wrapped up on Saturday with Carson Branstine of Orange, California edging an upset-minded Caty McNally of Cincinnati 7-6 (4), 6-4 to take the prestigious title.
It was quite an exciting week of play at the Polo Club of Boca Raton, as the club has now played host to this event for 28 years.
"We are fortunate to have the members at the Polo Club give back to the community and the kids by hosting this event," said tournament director Jean Mills. "Members give up their courts and not only take an interest in the girls this week, but they follow their careers as they progress."
It's the perfect venue for this national tournament that showcases the top 12-and-under girls in the country. Locals and club members gear up for the event months ahead of time, while the players, parents, and patrons appreciate the effort and hospitality.
While all the players showed great effort and gained valuable experience during the week, Branstine was undoubtedly the best player all week.
The 12-year old didn't drop a set in taking the title she thought she would win.
"I was very confident [that] I was going to win the tournament the whole time," said an excited Branstine. "I wanted the gold ball and now I have it."
Branstine got serious when she stated that this tournament win was dedicated to her coach of 4 1/2 years, Jackie Cooper, who passed away in May.