Championship Week
Day Outlasts Lahey in Girls' 14s
by Todd Holcomb, 14 August 2013
Kayla Day and Ashley Lahey train together back home in California, and they hit together last week in Georgia before every match at the USTA Girls 14 National Championships.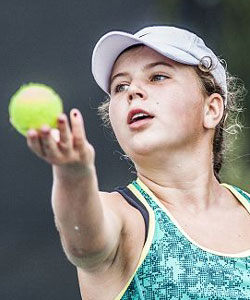 Girls 14 Champion
Kayla Day
© Doug Wrege, TennisRecruiting.net
That included the singles final, when the two friends met for the championship.
Day, of Santa Barbara, survived four match points and won 1-6, 6-3, 7-5 in Peachtree City.
"It was hard at the end because I felt sad for her, but it felt really good to win," Day said. "You want to beat each other so badly, but you still come out friends. It was fun."
Lahey, a Colorado native now living in Hawthorne, was the No. 1 seed and dominated through to the finals, winning every set 6-3 or better. She'd also been a finalist at the USTA Spring National Championships (Easter Bowl) in April.
Day, the No. 2 seed, had a tougher time. She dropped the opening sets against No. 5 seed Victoria Flores of Fort Dodge, Iowa, in the quarterfinals (but won 5-7, 6-1, 6-2) and against No. 9 Hannah Lairmore of Mobile, Ala., in the semifinals (but won 4-6, 6-3, 6-1).
"I just think that it's not over until it's over," Day said. "I played very good second sets in the quarters and semis. I felt like I could take charge a little more in the third."
Day stayed calm when she went down 6-1 in the first set against Lahey.
"I was really nervous in the first set because I hadn't been in a championship final in two years," said Day, who has been sidelined for eight months over the past two seasons because of injuries. "I wasn't breathing well, and I was tight. I just thought to myself you can get second [place] or you can get first. I really wanted to get first. I just thought 'keep fighting, keep fighting.'"