Championship Week
Katerina Stewart Streaks to 16s Title
by Keith Kropp, 15 August 2013
Katerina Stewart walked on to Stadium Court at the Barnes Center on Saturday afternoon having won 12 of her last 13 matches at the USTA Girls 16s & 18s National Championships. With that excellent track record, the only thing the Miami resident had yet to do was earn a championship.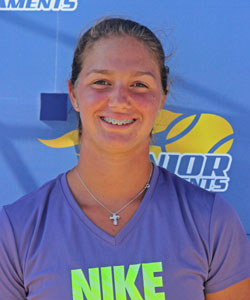 Presented with a second opportunity to win one of the most prestigious titles in junior tennis, Stewart rose to the occasion and captured the 16s singles championship with an impressive 6-4, 6-1 victory over top-seeded
Ena Shibahara
of Rancho Palos Verdes, Calif.
Stewart, the No. 2 seed and runner-up to Kimberly Yee in last year's 16s final, dominated this year's tournament. She did not drop a set in her seven matches and also defeated two other Southern Californians - No. 7 seed Meredith Xepoleas of Huntington Beach, 6-3, 6-2 in the quarterfinals, and Ryan Peus of Palos Verdes Estates, 6-2, 6-2 in the previous round.
Shibahara, ranked No. 3 in the nation in Girls 16 singles, was trying to build on what has already been an impressive 2013 season for the 15-year-old Southern Californian. Earlier this year Shibahara won the 16s at the USTA International Championships at Carson and was a champion at the Southern California Junior Sectionals in the 18s.
Stewart, a 16-year-old ranked eighth nationally in the 16s, had a wise approach to handle Shibahara's power and all-court skills. Early in the match, the task simply amounted to finding a way to settle down.
"In the beginning it was hard to find a rhythm because we were both nervous," Stewart said following her victory. "I was just trying to keep as many balls in play and then find a weakness I could pick on."
In a close opening set, Stewart produced some of her best tennis late in that set. Trailing 3-4 she held serve to level things at 4-all - and then earned the key service break in the ninth game.
"Once I broke for 5-4, her belief went down," said Stewart, who held the following game to secure the first set. Stewart then rode that momentum the remainder of the match, breezing through a rather uneventful second set.